Improvements to Duplicate Annihilator.
AI in Photos Finder.
Duplicate Annihilator for Photos v9
AI Classroom.
GPTEverything.
AI coming to Duplicate Annihilator and Photos Finder.
Introducing Photos Clicker.
Improvements to Photos Finder.
Photos and People
Introducing Photos Finder.
macOS 13 Ventura feature "Copy Subject" explained.
Photos 8 – how to set up a shared library
Duplicate Annihilator for Photos v8 released
How to search, filter, suggest and "facet" your search in Photos.
How to work with People/faces?
Metadata, what is it and how do I use and edit it?
Introducing Duplicate Annihilator 7.5.0 including fix for iCloud and missing files.
Introducing Duplicate Annihilator v7 including copy metadata from duplicates to originals.
Smart albums for missing people no longer working
Photos 7 and Live Text
Preserve folder and album structure as keywords
Working with Duplicate Annihilator for Photos – part 3
Working with Duplicate Annihilator for Photos – part 2
macOS 10.5 Catalina, Photos 5 and Duplicate Annihilator v4
Working with Duplicate Annihilator for Photos – part 1
Duplicate Annihilator – HEIC format support
What is HEIC?
Dear friend,
My name is Anders and I'm the CEO of Brattoo Propaganda Software. I would like to start this letter by asking you for a favor. Every application we build, every feature we add and every bug we fix is based on customer feedback. Your feedback is essential to us so if you need support or have an idea then please let us know. An Apple Consultant Justin, did just that and asked for a solution on how to migrate from Flickr to Apple Photos so we decided to build an application that does that, preserving metadata like comments, albums etc.  So, please let us know what's on your mind. 
Photos Tagger – new features on the way
As I mentioned in my last letter we have more features in the pipeline for Photos Tagger with faster keyword extraction and added holiday keywords like Christmas Day, Easter day, Memorial Day making searching for photos from holidays, where the date differ from year to year, like Easter much easier. Our developers are making progress and expect an update soon.
With the recent release of macOS 10.14 Mojave and Photos 4.0 it also seems that Photos has become much better at detecting valuable information about the contents of your photos which means that Photos Tagger will be able to tag your photos with more and better keywords.
You can download the current version of Photos Tagger here: https://brattoo.com/#photostagger
Duplicate Annihilator and macOS 10.14 Mojave
We have added some small features to Duplicate Annihilator so that it is fully compatible with macOS 10.14 Mojave's, which have more restrictive ways when it comes to letting applications integrate with each other. So when your computer asks you to let Duplicate Annihilator access your photos say OK, otherwise the communication between Duplicate Annihilator and Photos will be disabled and it will not work. If you have said no then it can be fixed by allowing integration in System Preferences->Security & Privacy->Privacy where both Duplicate Annihilator and Photos Tagger need access to Photos and Automation.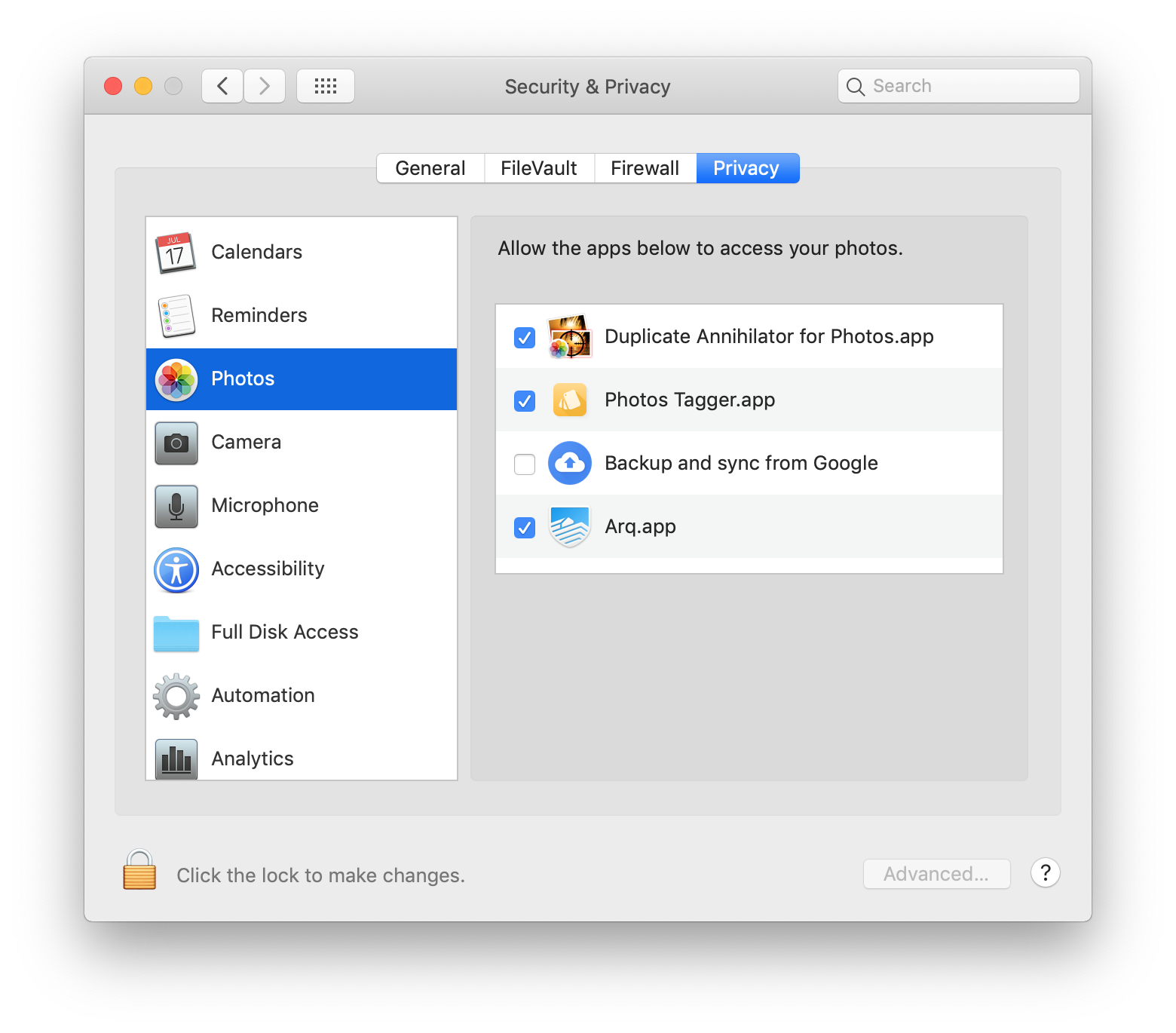 Duplicate Annihilator for Photos v2.1.0 with the most recent fixes for macOS 10.14 Mojave is available for download from: https://brattoo.com/#photos
macOS 10.14 Mojave and 32 bit applications 
In my last letter I told you that in macOS 10.14 Mojave 32 bit applications will no longer work. That was incorrect, however Apple has claimed that macOS 10.14 Mojave will be the last version of macOS that supports 32-bit applications. I apologise for the confusion.
Apple Photos 4.0
With macOS 10.14 Mojave came a brand new major version of Photos, version 4.0. As I previously mentioned very little has changed on the surface. One thing has changed though that affects me and my daily integration with Photos. You now open the image viewer with the Return key and enable the Edit Tools with Command+Return key. 
Speaking about the Edit Tools, did you know that you can actually copy the adjustments that you have made to an image and apply those adjustments to another photo? This is a great feature if you shot many photos in the same session. To do this first open the Edit Tools, Command+return or Edit->Show Edit Tools. Select the photo from which you want to copy the adjustments and select Image->Copy Adjustments or use the keyboard short cut Shift+Command+C. Then select the photo you want to apply the changes to and use Image->Paste Adjustments or use the keyboard short cut Shift+Command+V. This only works when you have the Edit Tools enabled in Photos.
This newsletter and previous letters
Several of our readers have requested that we resend previous emails so that they could catch up on earlier tips and information. All previous emails are available online in our Newsletter section at https://newsletter.brattoo.com
The free apps section
As I have mentioned in previous letters we have received requests on how to automate some tasks in Apple Photos or tasks related to photos. Those tasks might be tedious to work out manually but are easy for us to solve. The apps include a tool to set the Photos Titles based on filename (with or without file extension), a tool to copy and apply GPS coordinates between photos and finally a utility to set the correct file dates on image files based on the photo date stored in the metadata within the image files. You'll find all our free apps at https://free.brattoo.com.
Upgrades
Finally I would just like to tell you that our upgrade discount for Duplicate Annihilator for Photos is still available. For only $4.95 you can upgrade any old Duplicate Annihilator license to Duplicate Annihilator for Photos and for just one dollar ($1.00) more you can upgrade any old Duplicate Annihilator license to the Duplicate Annihilator Toolbox including a family pack! This means that you get five licenses for you and your family for all versions of Duplicate Annihilator including iPhoto, Aperture, iOS and Photos for only $5.95.
Get the upgrade from: https://upgrade.brattoo.com
Thank you for your time, I hope that you found this email informative. If you have any feedback, suggestions, questions or ideas then please reply to this email. I read all emails and reply to them in person.
Best Regards,
Anders, CEO and Founder, Brattoo Propaganda Software