Improvements to Duplicate Annihilator.
AI in Photos Finder.
Duplicate Annihilator for Photos v9
AI Classroom.
GPTEverything.
AI coming to Duplicate Annihilator and Photos Finder.
Introducing Photos Clicker.
Improvements to Photos Finder.
Photos and People
Introducing Photos Finder.
macOS 13 Ventura feature "Copy Subject" explained.
Photos 8 – how to set up a shared library
Duplicate Annihilator for Photos v8 released
How to search, filter, suggest and "facet" your search in Photos.
How to work with People/faces?
Metadata, what is it and how do I use and edit it?
Introducing Duplicate Annihilator 7.5.0 including fix for iCloud and missing files.
Introducing Duplicate Annihilator v7 including copy metadata from duplicates to originals.
Smart albums for missing people no longer working
Photos 7 and Live Text
Preserve folder and album structure as keywords
Working with Duplicate Annihilator for Photos – part 3
Working with Duplicate Annihilator for Photos – part 2
macOS 10.5 Catalina, Photos 5 and Duplicate Annihilator v4
Working with Duplicate Annihilator for Photos – part 1
Duplicate Annihilator – HEIC format support
What is HEIC?
Hi,
My name is Anders and I'm the CEO of Brattoo Propaganda Software. I would like to start by saying "thank you" to all of you who wrote me regarding my Parkinsons diagnosis, all your kind words really mean a lot to me. With that said, lets get on to this newsletter. Firstly, macOS 10.15 Catalina has arrived and I'll go over what that means to Duplicate Annihilator. I have also received a few emails with requests as to how to work with Duplicate Annihilator, and you are absolutely right, this is a really good time to write about it. So, starting with this newsletter, I'll walk you through several things that can be useful and good to know when using Duplicate Annihilator.
macOS 10.5 Catalina is here – so is Duplicate Annihilator v4.0
As I told you in the last newsletter, with macOS 10.5 Catalina comes Photos v5 and we have done some extensive work to make Duplicate Annihilator compatible. I'm so grateful to all of you who volunteered as beta testers. I'm proud to tell you that Duplicate Annihilator for Photos is now completely compatible with the new Photos version, and it is available for download today. Download Duplicate Annihilator for Photos from https://brattoo.com/#photos.
Working with Duplicate Annihilator for Photos – part 1
It is my intention to dig deep into this, trying to catch all those aspects that users might run into. When I started to think about it, I realized that this needs to be done over multiple newsletters. Today, I'll start with the Photos Library.
The Photos Library
The Photos Library is where the Photos database is located, and by default also all the image files that you have imported to Photos. The Photos Library is a package, a package is a folder that acts like a file. Confusing? Yes, but quite useful. When working with Duplicate Annihilator, the first step is to select the Photos Library that you want to scan. To some this is a piece of cake, but for others it can be challenging.
By default you only have one Photos Library, it is by default located in the Pictures folder located in your Home folder. This is also the place where Duplicate Annihilator looks by default when you click on the "Select Photos Library" button. It can look like this.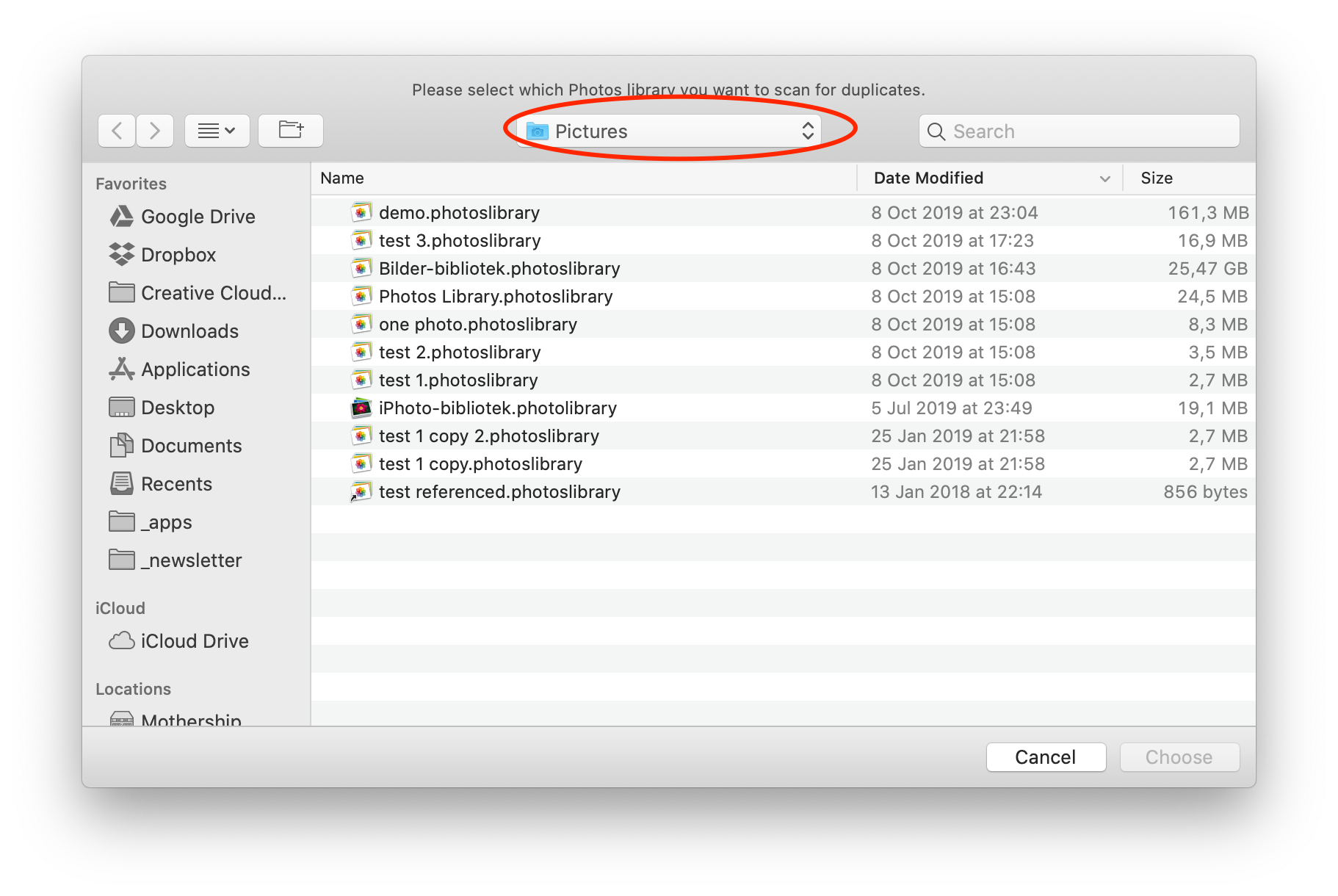 A common mistake is to confuse the Finders media browser for the Photos Library. The Finders media browser will show you the contents of your Photos Library, but it is not the Photos Library package. The Finders media browser looks like this.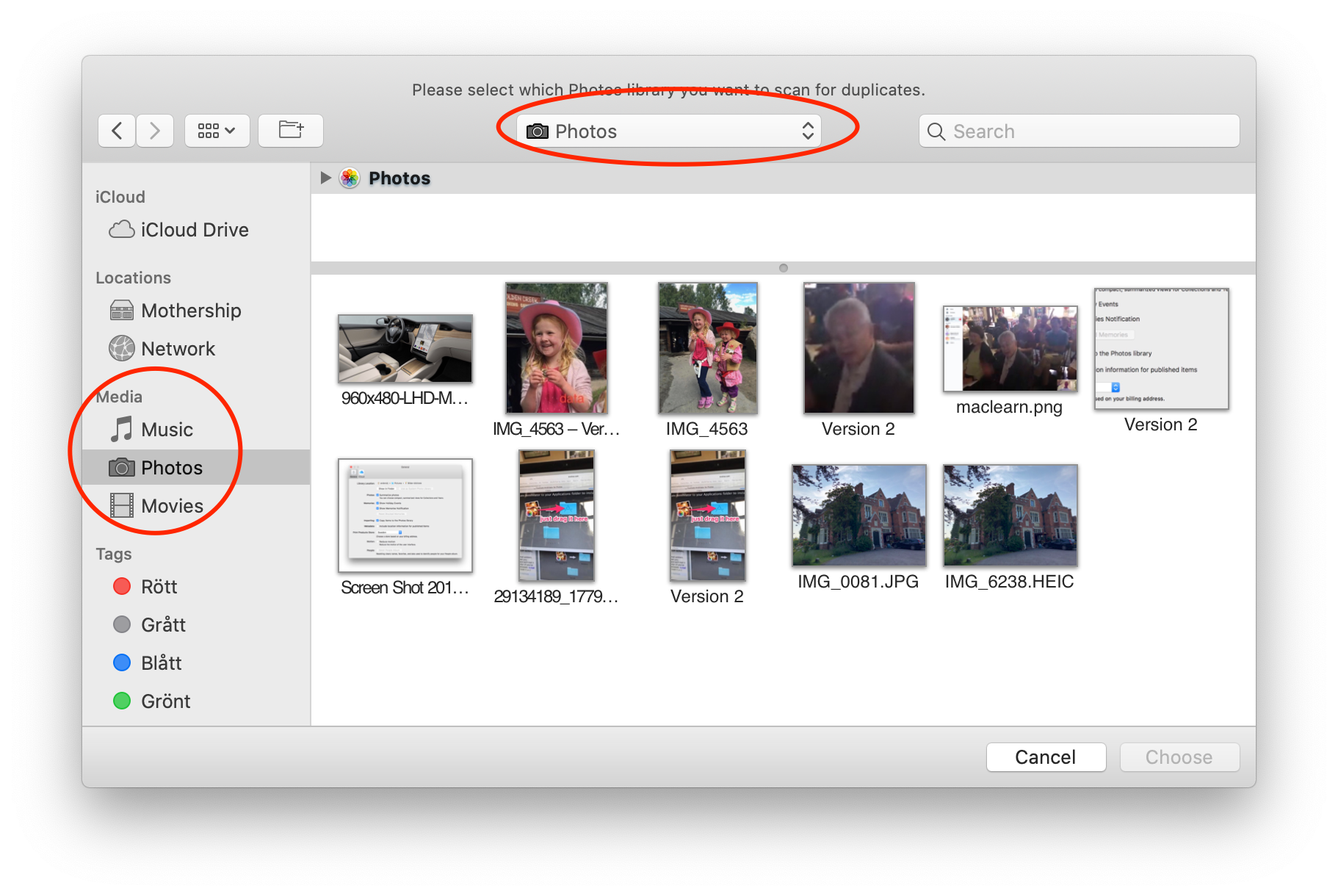 Sometimes the Photos Library is not located in the Pictures folder and you might wonder where it is. There are several ways to find out where the Photos Library is located. The easiest way is to open Photos then go to the Photos preferences, either with the menu Photos->Preferences or with the key combination Command+[comma]. In the Photos preferences you'll see the path to the Photos Library, and also a button to show it in the Finder.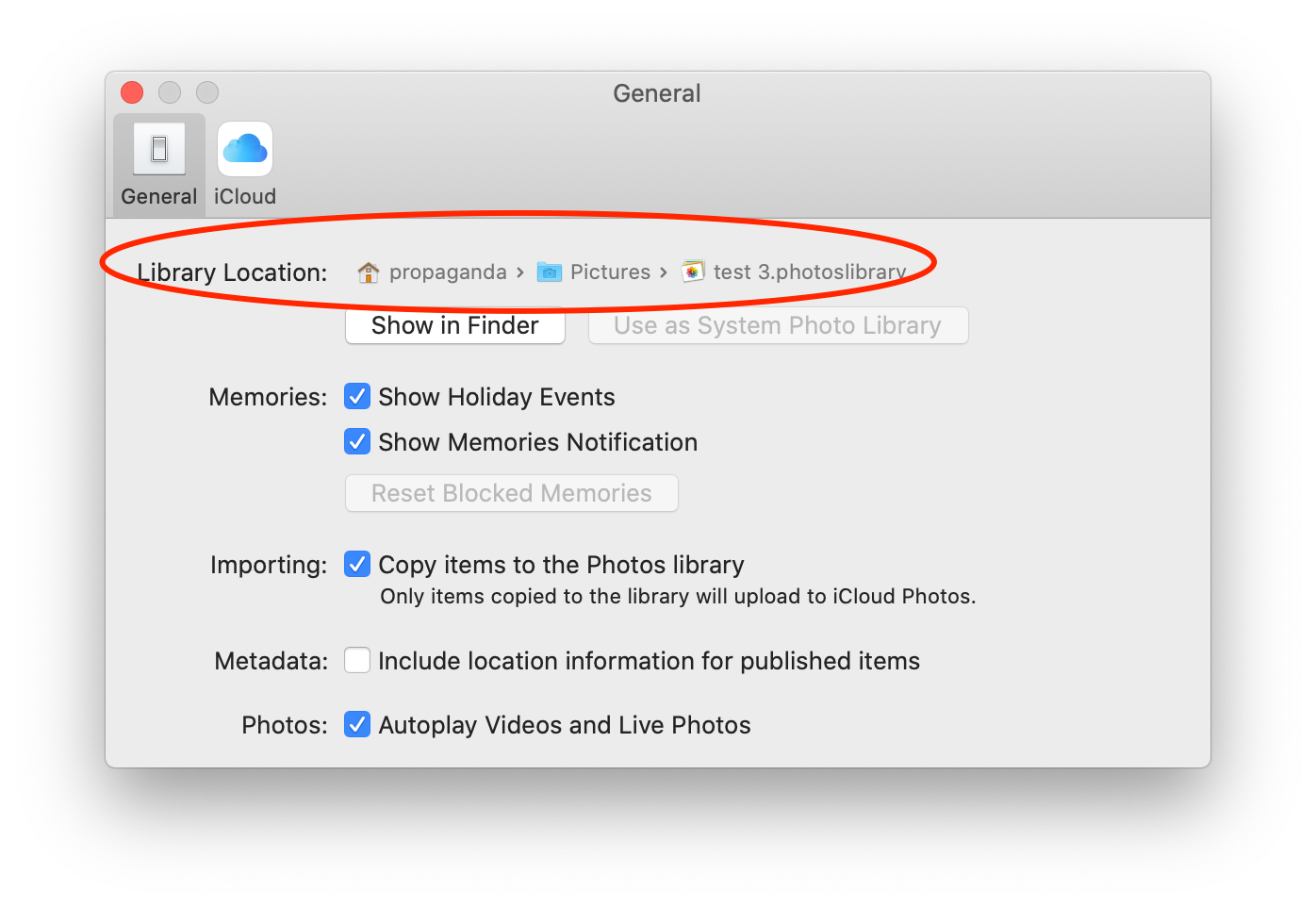 Another way to find the path to the Photos Library is to hold down the Option key while starting Photos. A window will appear where you can select which Photos Library to use (if you have many) and you'll find the path to the library. From here you can also create new libraries.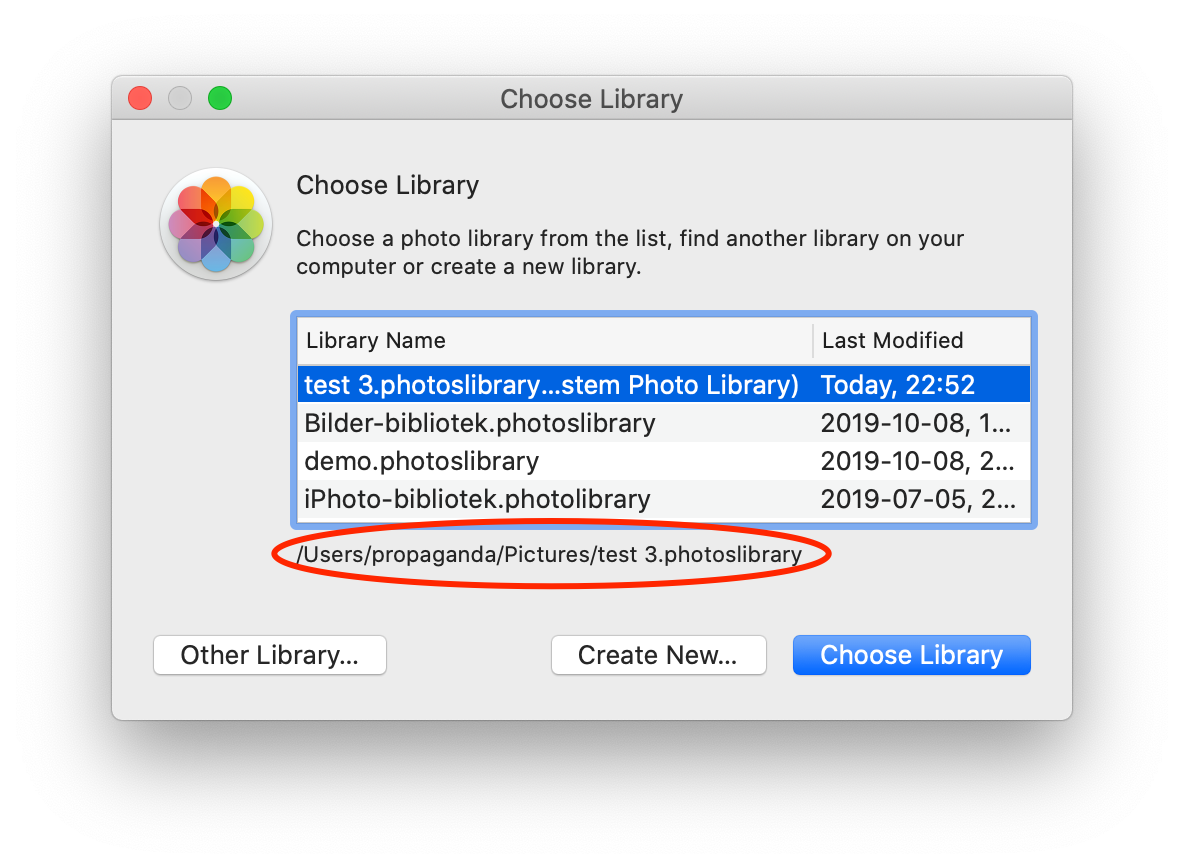 So, now you know how to locate your Photos Library, how to create a new one or select which one to open (if you have multiple). Next time, I will continue our journey towards the annihilation of your duplicate photos.
This newsletter and previous letters
Several of our readers have requested that we resend previous emails so that they could catch up on earlier tips and information. All previous emails are available online in our Newsletter section at https://newsletter.brattoo.com
The free apps section
As I have mentioned in previous letters we have received requests on how to automate some tasks in Apple Photos or tasks related to photos. Those tasks might be tedious to work out manually but are easy for us to solve. The apps include a tool to set the Photos Titles based on filename (with or without file extension), a tool to copy and apply GPS coordinates between photos and finally a utility to set the correct file dates on image files based on the photo date stored in the metadata within the image files. You'll find all our free apps at https://free.brattoo.com.
Upgrades
Finally I would just like to tell you that our upgrade discount for Duplicate Annihilator for Photos is still available. For only $4.95 you can upgrade any old Duplicate Annihilator license to Duplicate Annihilator for Photos and for just two dollars($2.00) more you can upgrade any old Duplicate Annihilator license to the Duplicate Annihilator Toolbox including a family pack! This means that you get five licenses for you and your family for all versions of Duplicate Annihilator including iPhoto, Aperture, iOS and Photos for only $6.95.
Get the upgrade from: https://upgrade.brattoo.com
Thank you for your time, I hope that you found this email informative. If you have any feedback, suggestions, questions or ideas then please reply to this email. I read all emails and reply to them in person.
Best Regards,
Anders, CEO and Founder, Brattoo Propaganda Software