Improvements to Duplicate Annihilator.
AI in Photos Finder.
Duplicate Annihilator for Photos v9
AI Classroom.
GPTEverything.
AI coming to Duplicate Annihilator and Photos Finder.
Introducing Photos Clicker.
Improvements to Photos Finder.
Photos and People
Introducing Photos Finder.
macOS 13 Ventura feature "Copy Subject" explained.
Photos 8 – how to set up a shared library
Duplicate Annihilator for Photos v8 released
How to search, filter, suggest and "facet" your search in Photos.
How to work with People/faces?
Metadata, what is it and how do I use and edit it?
Introducing Duplicate Annihilator 7.5.0 including fix for iCloud and missing files.
Introducing Duplicate Annihilator v7 including copy metadata from duplicates to originals.
Smart albums for missing people no longer working
Photos 7 and Live Text
Preserve folder and album structure as keywords
Working with Duplicate Annihilator for Photos – part 3
Working with Duplicate Annihilator for Photos – part 2
macOS 10.5 Catalina, Photos 5 and Duplicate Annihilator v4
Working with Duplicate Annihilator for Photos – part 1
Duplicate Annihilator – HEIC format support
What is HEIC?
Hi,
My name is Anders and I'm the CEO of Brattoo Propaganda Software. 2020 is coming to an end, what strange year we have had with this Covid pandemic. I guess that we are all struggling to find new ways to make our days productive and interesting. Since we spend so much more time at home, we are probably spending more and more time with our photos. During the lock downs and quarantines our photos of friends, family, vacations and other happy occasions have gotten even more important to us. In this newsletter I will focus on managing photos again. A much requested topic during my 1 on 1 sessions is how to merge Photo libraries. So let's find out!
Take care and stay safe.
Duplicate Annihilator – improvements to perceptive mode
We have also just released Duplicate Annihilator for Photos v5.3.0 where we have tweaked our perceptive algorithm even more to better detect duplicates. A new thing is that Perceptive mode now also includes the detected thumbnails in the duplicate scan. This is quite useful if you want to find duplicates that match thumbnails, but still want to keep those thumbnails that have no matching high resolution image. As some of you have discovered during our 1 on 1 sessions, there are hidden settings where I can tweak the perceptive algorithm. We are currently working on a self tweaking version of the algorithm that can reconfigure itself based on your images, this will be available in future versions of Duplicate Annihilator. Duplicate Annihilator for Photos v5.3.0 is available for download today from https://brattoo.com/#photos.
Photos Secrets – an new product in beta
In previous newsletters I have hinted that we have made some interesting discoveries within the Photos database. I want to make those discoveries available for you. This application extracts five different values from the Photos database. The values are called faces count, blurriness score, exposure score, highlight visibility score and overall aesthetic score. The name of the values indicates that there are some kind of AI/Machine learning to analyze your photos and calculate those values. We don't know that they are used internally in Photos, but perhaps for features like Memories. The quality of those values seems to vary quite a bit between various Photos Libraries, perhaps because that they have been calculated in different versions of Photos. Or possibly they are just experimental and not used at all.
So, to get a better grasp on those values I've decided to make a public beta available for download for those of you who are brave enough to test it. It extracts the values from the database (this is very safe), then adds the images to various Albums in Photos based on the values. This means that a few new albums will be created in your Photos Library. Then you can use those albums and see if they mean anything to you. If you don't want to keep those albums then you can just delete them.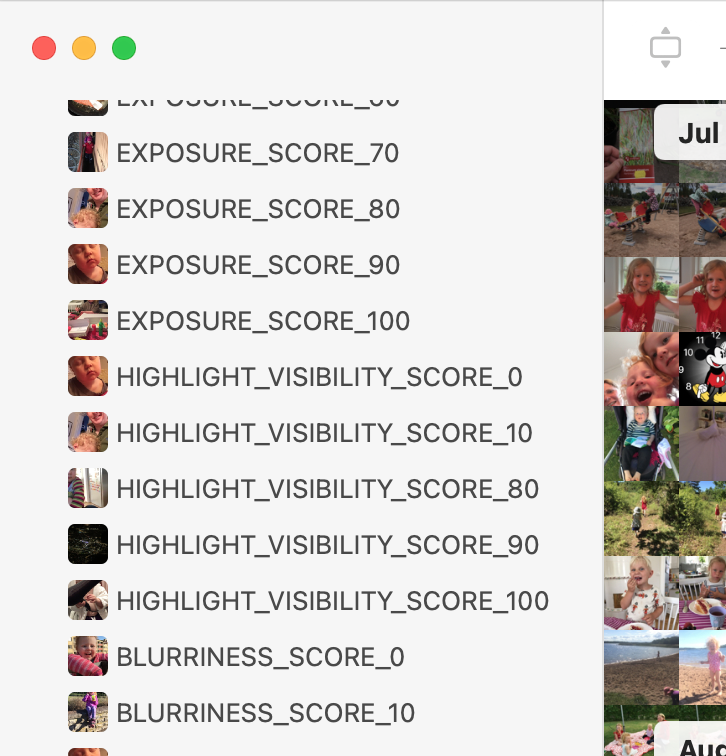 You can download Photos Secrets v0.1 beta today from https://beta.brattoo.com/photosSecrets.zip and if you have any feedback on it please let me know.
Merging Photos libraries
A very common question during my 1 on 1 training sessions is how to get everything into one library. Importing photos from your hard drive is simple, either by dragging them to the Photos application or by using the Photos import feature in the menu File->Import. Perhaps you have a folder structure on your hard drive where you have sorted your photos into various folders? In that case you can simply drag the folder to the Album section of your Photos Library, and a new album will be created. The new folder will be named as your folder and all photos in the folder will be imported to the library and assigned to that album. Pretty neat.
Anyway, the intimidating part is how to merge two Photos Libraries. I have heard many stories where IT guys have "helped" by simply dragging all contents of one Photos Library package into the Photos application. This caused not that only the photos to be imported, but also all thumbnails and previews. In some cases, even worse! Since the library was a Storage optimized iCloud library, all originals were not available during the import. The result is a partial import of high resolution photos, and a full import of thumbnails and previews. It can get quite messy. And besides the mess, you also loose any metadata that you have added to those last imported photos. So what do I do?
The easiest way to merge Photos Libraries is to utilize iCloud. First, you have to decide which library you want to keep when everything is finished. That is usually the library that you currently work with, and most likely it is located in your Pictures folder. When you have decided which to keep then open it, and go to the Photos Preferences.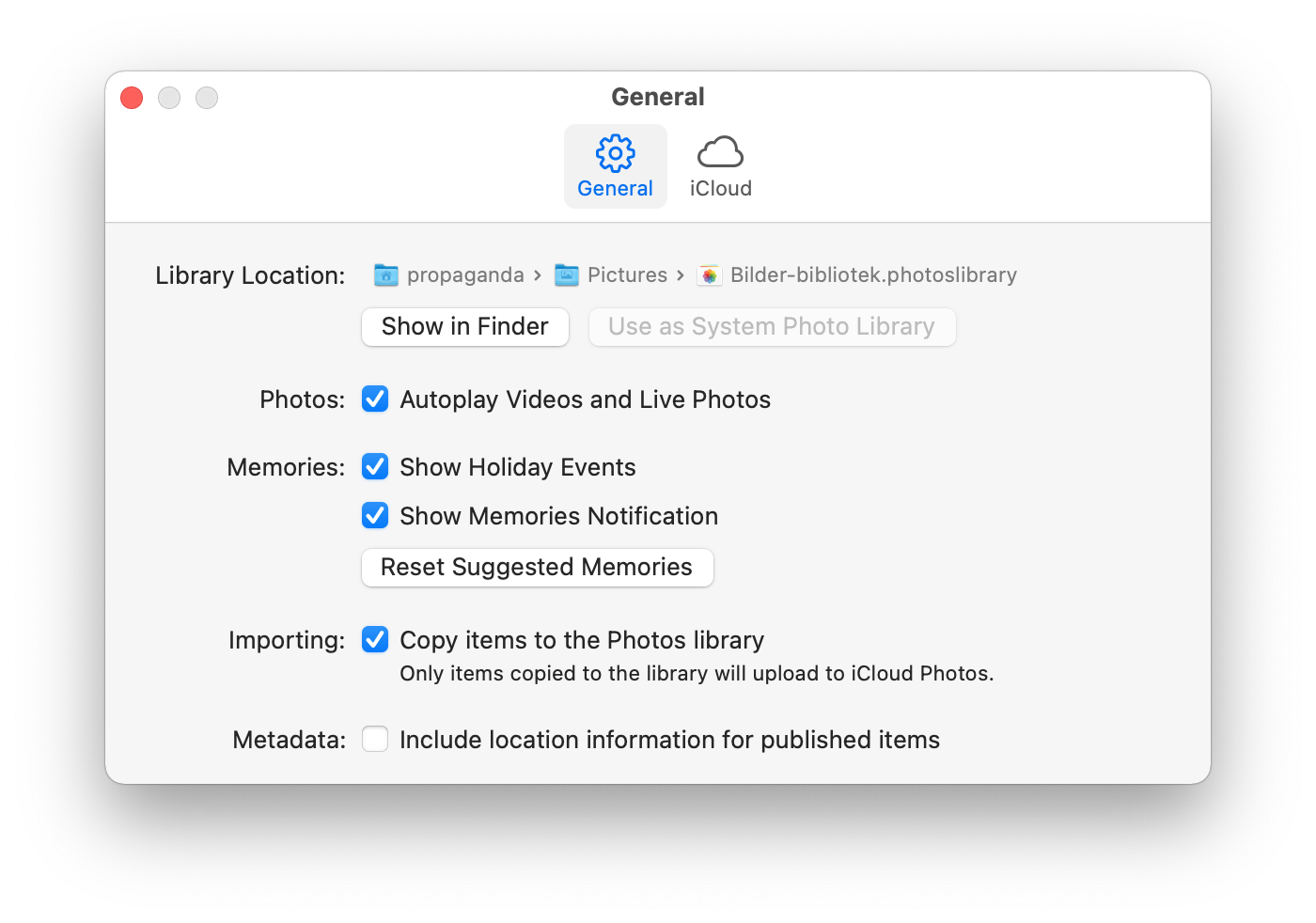 The button Use as System Photos Library should be greyed out. If it is not, then it is not the library that is linked to your system and not connected to iCloud. In that case you should try to locate which library that is your System Library. The easiest way to do that, is by holding down the option key while starting Photos. A dialog box will appear that lists your libraries and one of them should be marked with System Photo Library.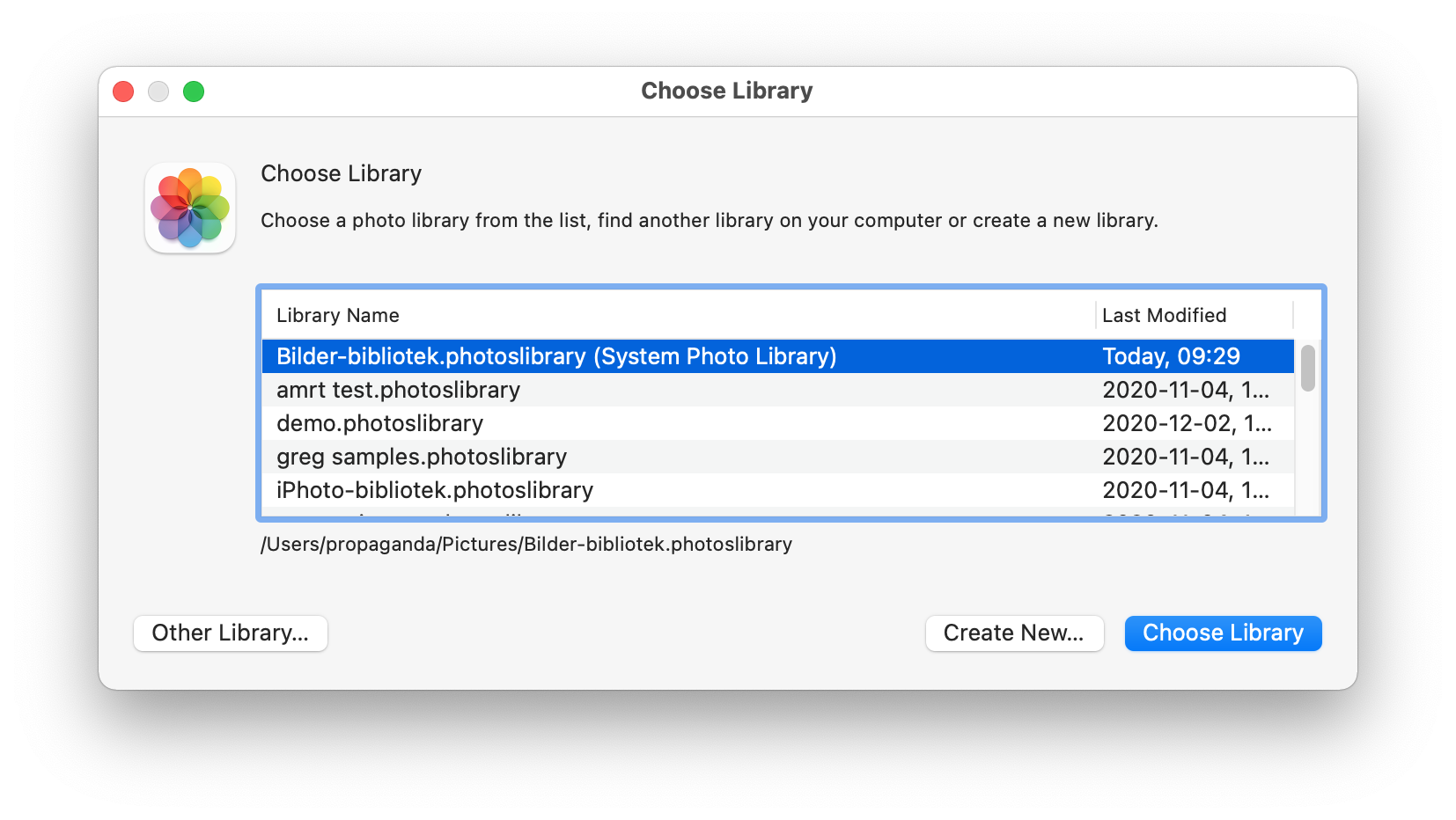 When you have your System Photos Library open, go to the Photos Preferences and click on the iCloud button, making sure that iCloud is enabled: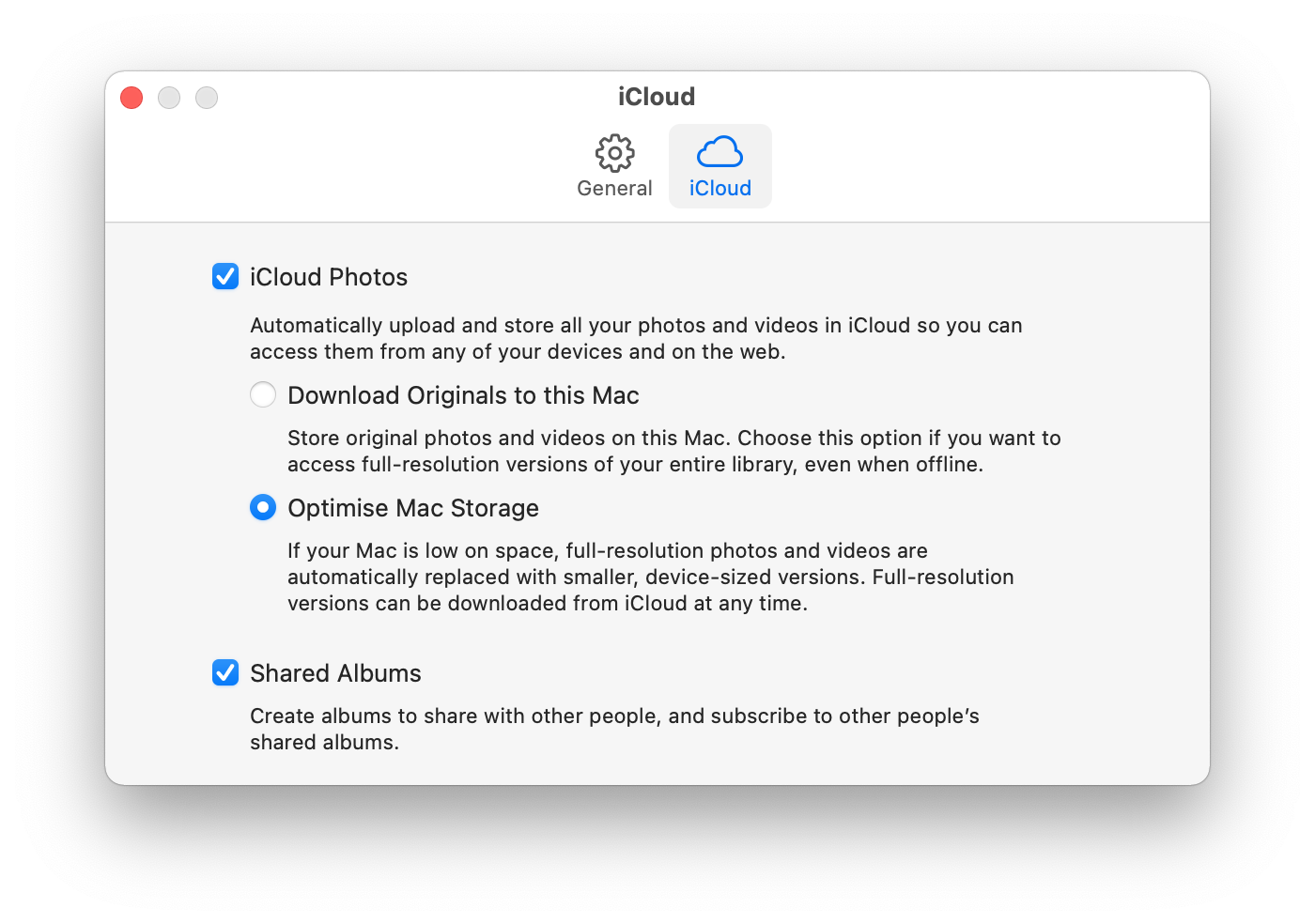 Once all of that checks out we know that your library is synced with iCloud. The next thing is to find out if the library is fully synced with iCloud, or if there is a problem. To determine that, go to the very bottom of your Photos Library and you will find a text that tells you if it is synced or not. It should say "Updated just now" and then you are ready for the next step. If its says downloading or uploading wait for it to finish. When it is completed it will say something like this:

At this point you should upgrade your iCloud storage, so that your photos will all fit. After upgrading wait it for it to fully sync. When the sync has finished, everything is in iCloud and we are ready for the next step. The next step is to open up your other libraries that you want to merge with, one at a time, and let them merge with iCloud.
First, you close your current library (with iCloud fully synced) and open up your next library. Go to the Photos preferences, click on the Use as System Photos Library button. A scary popup button will appear that warns that anything not downloaded or uploaded will be deleted from the computer! That is OK! That is what we did in the previous step, where we verified that everything is fully synced.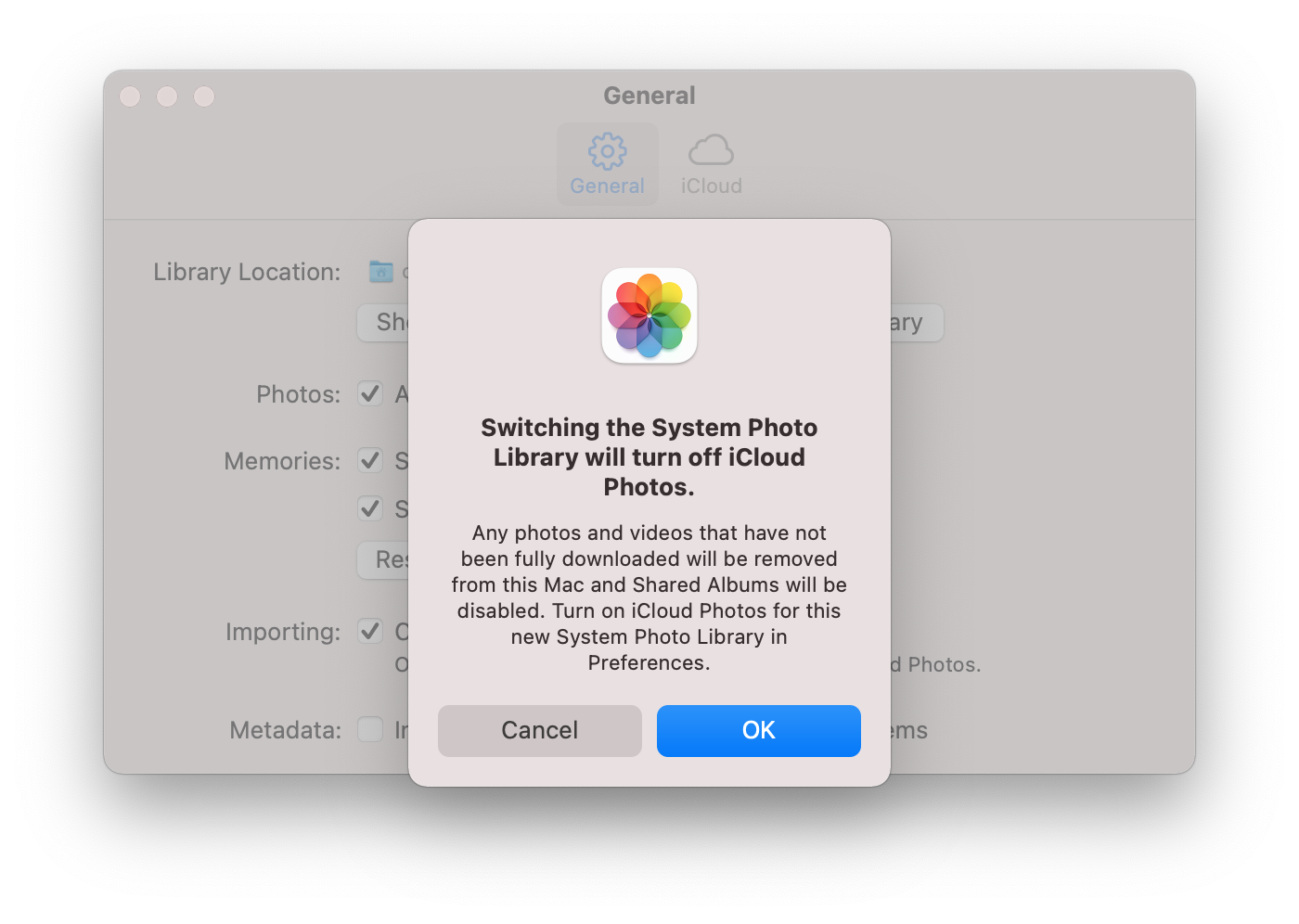 The next step, is to go to the iCloud section of the Photos preferences and enable iCloud, by making sure that the iCloud checkbox is checked.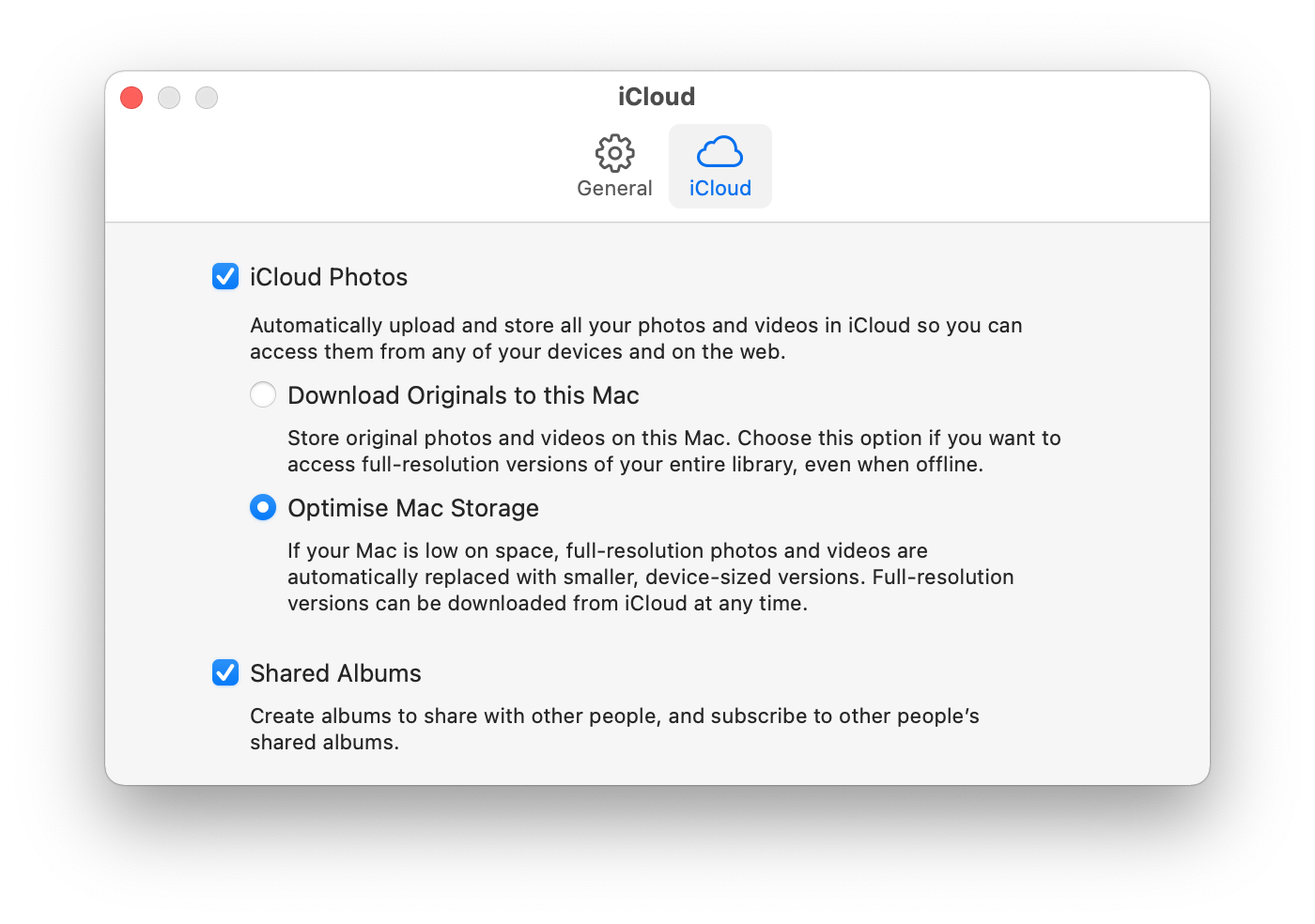 The library that is now currently open in Photos will start to merge with the library that you have in iCloud. All you have to do is to sit back and wait for it to finish! You know when it is finished simply by looking at the bottom of your Photos Library as described above.
Now you might wonder what will be synced? I have to be honest with you and say that I have not tried this with all versions of Photos. With the most recent version, all photos are synced and, yes, there is a built in duplicate detection in the sync. The description/comments/caption field of the images are synced, but it is the caption of the most recent version that is kept. This is an important thing to remember when we come to the final step of this process. Keywords are merged. If you have a keyword with the same name in both libraries, then there will only be one version of that keyword in the final library. Faces will be synced as well as albums, both smart and regular ones. If the two libraries have albums with the same name, then you will end up with two albums with the same name after the sync. This may require some manual work to tidy up.
Repeat the steps for every library that you want to merge. When the last library is merged, reopen the library that you started with (the one that you want to keep) and make it the System library. You will need to enable iCloud again, as described above. By doing so you make sure that your most recent edits to keywords, faces or descriptions/comments/captions are kept and synced.
Now all your libraries are merged into one library and you can get rid of all your old libraries and enjoy your new complete library.
1 on 1 training sessions
I've decided to continue with my 1 on 1 training sessions, and it is indeed great fun to meet you guys. If you haven't tried, it but feel that it might be something for you, please feel free to email me. The training sessions can be about anything, and will be customized based on your requests. I have over 25 years experience in the Mac platform, I have been an Apple Solution Expert and have held trainings in various softwares over the years. Training sessions are on request by contacting me on training@brattoo.com. Each session is 1 hour and costs 79 USD. If you want to learn more about something, email me at training@brattoo.com and we'll work out a session just for you.
Support the creation of these newsletters by becoming a Patron!
I was recently asked when my applications would become subscription software, instead of a one time purchase. Subscription software is the trend we see more and more. Well, I personally don't like subscription software. I take pride in being able to tell a customer that purchased a license, for let's say Duplicate Annihilator for iPhoto 15 years ago that, yes, their license is still valid and can be used with the most recent version of Duplicate Annihilator for iPhoto. Then I was asked if I would start to charge for my newsletters since they are so informative. And again, the answer is no. I believe in providing my customers with good and useful information, and I want to be able to do that for free.
But, these are strange times we live in! We all have to find new ways of making a living, so if you enjoy these newsletters, and want to support the creation of them, then please consider becoming a monthly contributor by signing up to become a Patron at https://www.patreon.com/brattoo. Still, paying for something that I already give you for free doesn't sound right either. So, I have decided that all hints and tips from my newsletters, and quite possibly some more, will also be provided as videos for our Patrons.
So again, if you do enjoy the newsletter (which will still be free) but want to support the creation of them, or want the video versions of the hints, then please become a Patron at: https://www.patreon.com/brattoo. Thank you.
The free apps section
As I have mentioned in previous letters we have received requests on how to automate some tasks in Apple Photos or tasks related to photos. Those tasks might be tedious to work out manually but are easy for us to solve. The apps include a tool to set the Photos Titles based on filename (with or without file extension), a tool to copy and apply GPS coordinates between photos and finally a utility to set the correct file dates on image files based on the photo date stored in the metadata within the image files. You'll find all our free apps at https://free.brattoo.com.
This newsletter and previous letters
Several of our readers have requested that we resend previous emails so that they could catch up on earlier tips and information. All previous emails are available online in our Newsletter section at https://newsletter.brattoo.com
Upgrades
Finally I would just like to tell you that our upgrade discount for Duplicate Annihilator for Photos is still available. For only $4.95 you can upgrade any old Duplicate Annihilator license to Duplicate Annihilator for Photos and for just two dollars($2.00) more you can upgrade any old Duplicate Annihilator license to the Duplicate Annihilator Toolbox including a family pack! This means that you get five licenses for you and your family for all versions of Duplicate Annihilator including iPhoto, Aperture, iOS and Photos for only $6.95.
Get the upgrade from: https://upgrade.brattoo.com
Thank you for your time, I hope that you found this email informative. If you have any feedback, suggestions, questions or ideas then please reply to this email. I read all emails and reply to them in person. And, don't forget to stay safe.
Best Regards,
Anders, CEO and Founder, Brattoo Propaganda Software