Improvements to Duplicate Annihilator.
AI in Photos Finder.
Duplicate Annihilator for Photos v9
AI Classroom.
GPTEverything.
AI coming to Duplicate Annihilator and Photos Finder.
Introducing Photos Clicker.
Improvements to Photos Finder.
Photos and People
Introducing Photos Finder.
macOS 13 Ventura feature "Copy Subject" explained.
Photos 8 – how to set up a shared library
Duplicate Annihilator for Photos v8 released
How to search, filter, suggest and "facet" your search in Photos.
How to work with People/faces?
Metadata, what is it and how do I use and edit it?
Introducing Duplicate Annihilator 7.5.0 including fix for iCloud and missing files.
Introducing Duplicate Annihilator v7 including copy metadata from duplicates to originals.
Smart albums for missing people no longer working
Photos 7 and Live Text
Preserve folder and album structure as keywords
Working with Duplicate Annihilator for Photos – part 3
Working with Duplicate Annihilator for Photos – part 2
macOS 10.5 Catalina, Photos 5 and Duplicate Annihilator v4
Working with Duplicate Annihilator for Photos – part 1
Duplicate Annihilator – HEIC format support
What is HEIC?
Hi,
My name is Anders and I'm the CEO of Brattoo Propaganda Software. Since 2003 we have helped people get rid of duplicate photos in iPhoto, Aperture and Photos. Finding duplicates is one thing, it isn't that hard. But then we had new requests, our customers wanted to detect what looks like a duplicate but might be digitally different. Photos might have different resolutions, formats or compression. So, we introduced new methods to detect these photos. First by comparing metadata and then by using a perceptual hash.
This is all good but it still requires quite a lot of manual labor to determine which photo to keep. So we introduced the feature where Duplicate Annihilator keeps high resolution instead of low resolution photos, RAW instead of JPEG and HEIC instead of JPEG. All with the intention to make sure that the photos with the highest quality are kept as the originals, from a set of duplicates without any additional manual labor.
Now, it is time to refine this even further and I'm proud to tell you that today we are releasing Duplicate Annihilator for Photos v7.
Take care and stay safe.
Duplicate Annihilator for Photos – the next step
We all have them, lots of duplicates. But, many of us also have put a lot of effort into our photos, especially during the last two covid years when we have found ourselves with a lot of time to organize things. A big part of this is done by adding metadata such as keywords, titles, dates, geo, captions and marking favorites.
Now, when you have done this you might notice that you have duplicates. So you run Duplicate Annihilator (or any other similar tool)  to get rid of the duplicates. This is when you realize something, you have added metadata to those duplicates. Now we have a problem, you want to delete the duplicates but not the metadata assigned to them.
Let's have a look at this example where we have three photos: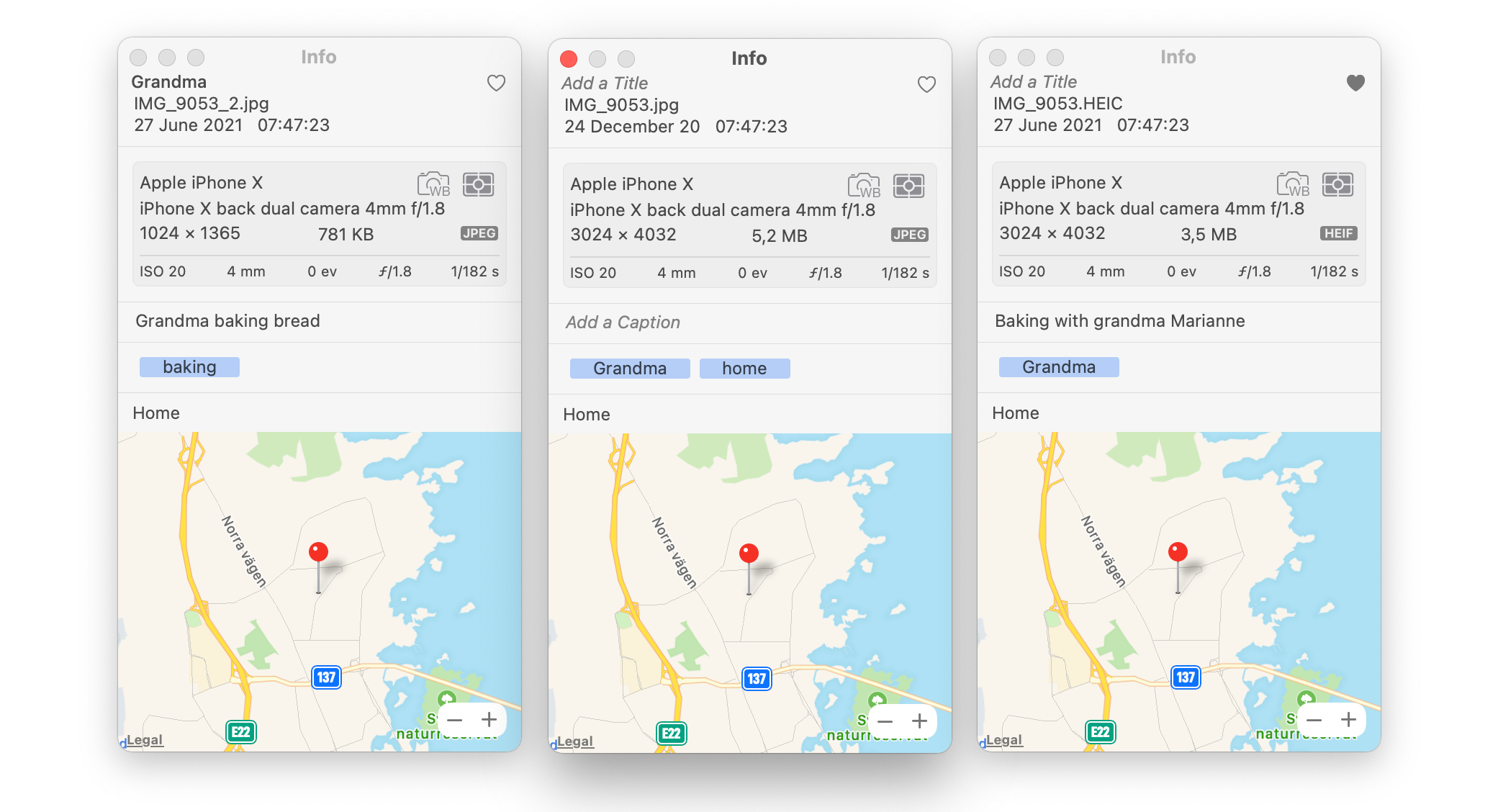 Photo 1 and 3 has the same resolution but photo 3 is HEIC so we want to keep that one. Photos 1 has a title set which photo 2 and 3 does not. Photos 1 and 3 have captions but they are different, all three photos have different combinations of keywords and in photo 2 we have adjusted the date to the correct one. Photo 3 has the favorite flag which the other two do not. So we want to delete two of the photos and we want to keep the one with the best quality. But, we don't want to loose any of the metadata. Until today we had real problem when encountering this. Not anymore, in Duplicate Annihilator for Photos v7 we have a brand new set of settings that changes all this!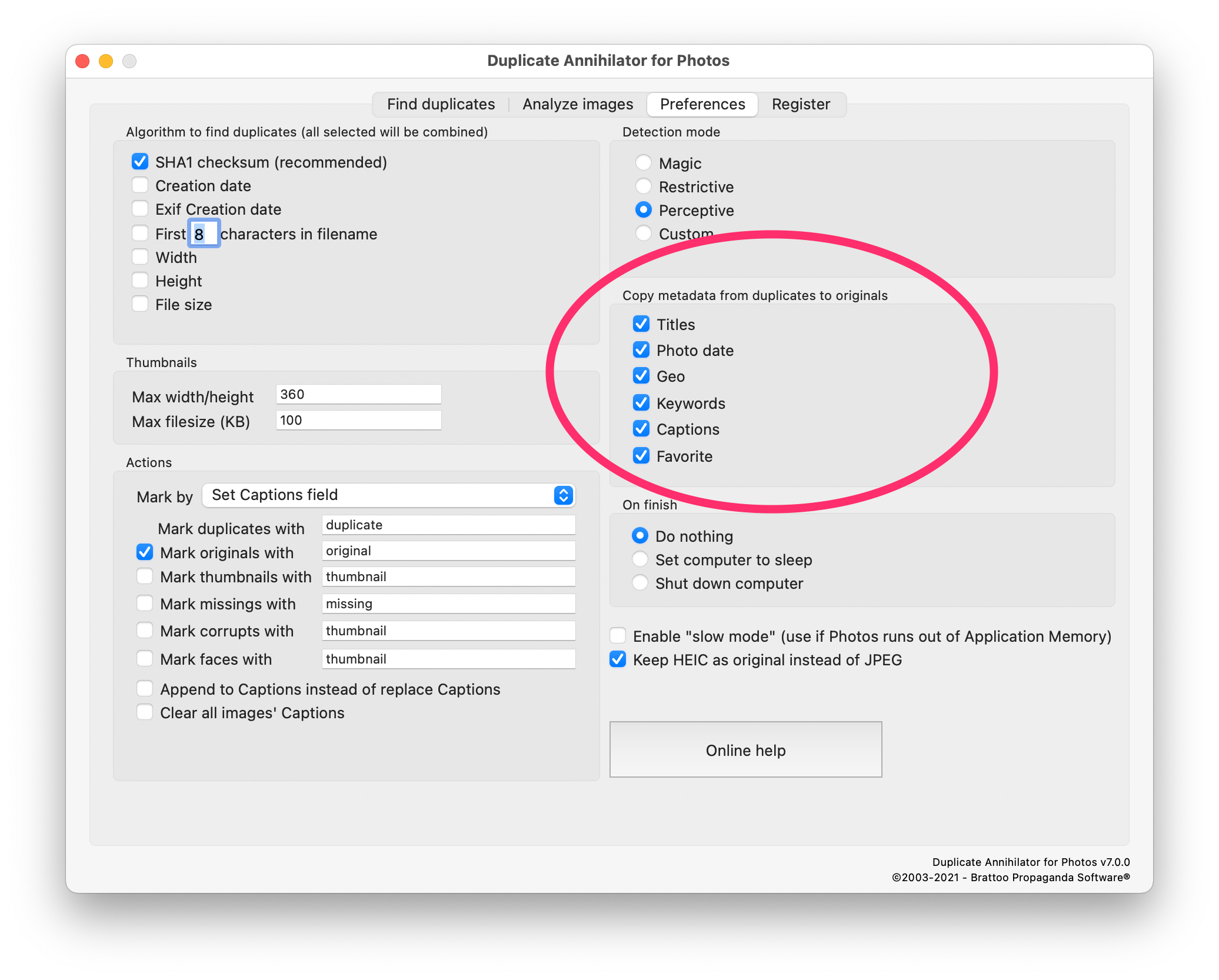 So when Duplicate Annihilator has done it's magic on those three images this is what we have left: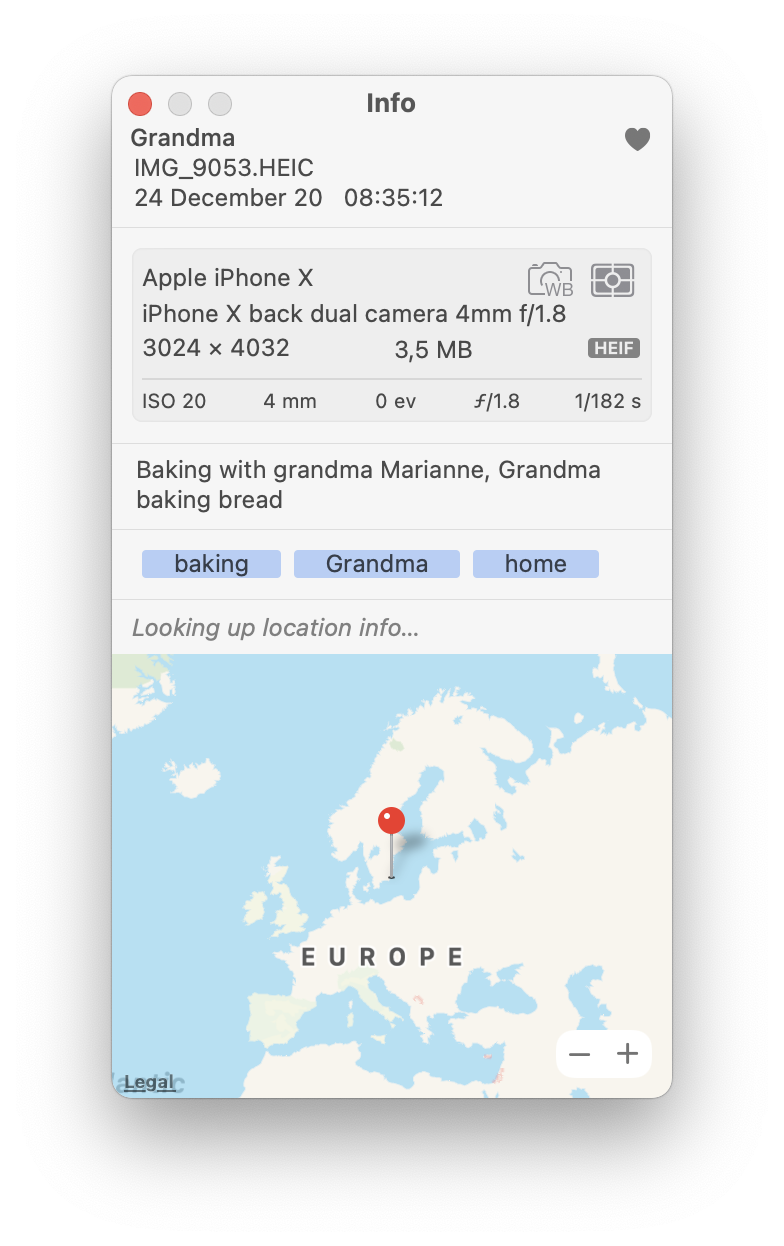 We have the high resolution HEIC image with all the combined metadata. We have the date, the captions, the title, the favorite flag and the keywords all combined into one single photo.
This is also why we changed the default way of marking found duplicates. From setting the Captions to assigning to Albums and we have also added the option to assign the current date and time to the markings, so that the result from different runs are not mixed up. It is available today for download at https://brattoo.com/#photos
Smart album for unknown persons – no longer working
In an earlier newsletter I wrote about how to locate unnamed persons in Photos by using a small trick with Smart albums. Unfortunately that seems to no longer work in the public release of Photos 7. If anyone has been able to find a way to trick Photos 7 into doing this, please let me know!
Photos 7 and Live Text
With macOS 12 Monterey there comes a really new cool feature called Live Text which I have mentioned in earlier newsletters. Live Text gives you the option to select any text, in any photo, and copy or translate it.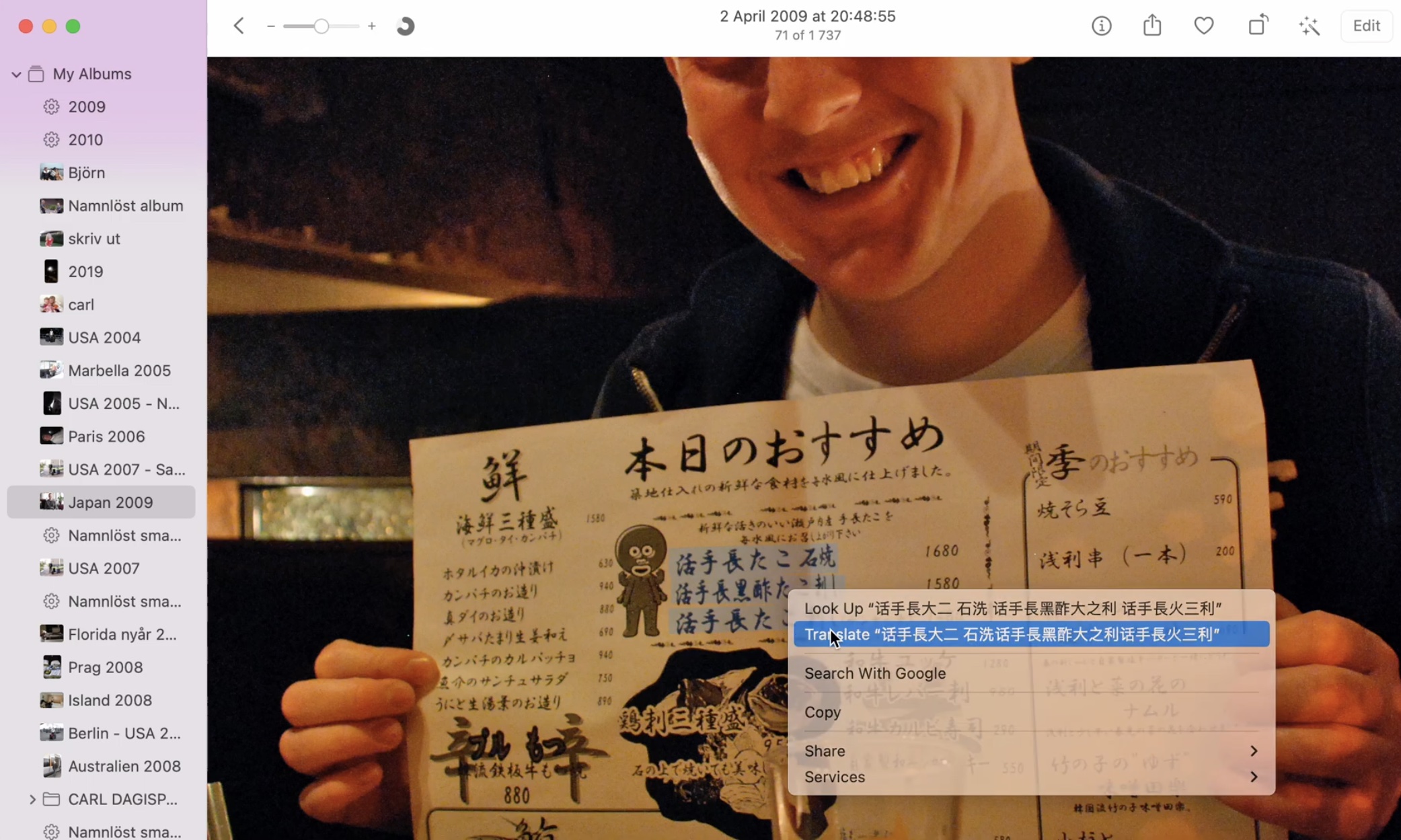 That is a really awesome feature. I made small video demonstrating it for my Patreons, you can watch it here. This new super cool feature was originally announced as only available for the new M1 CPU architecture but as one of my Patrons pointed out (thank you Reinhard) this option is now also available to any Mac running macOS 12 Monterey, which makes this even cooler. However for this feature to function you need to enable it in System Preferences→Language & Region→Live Text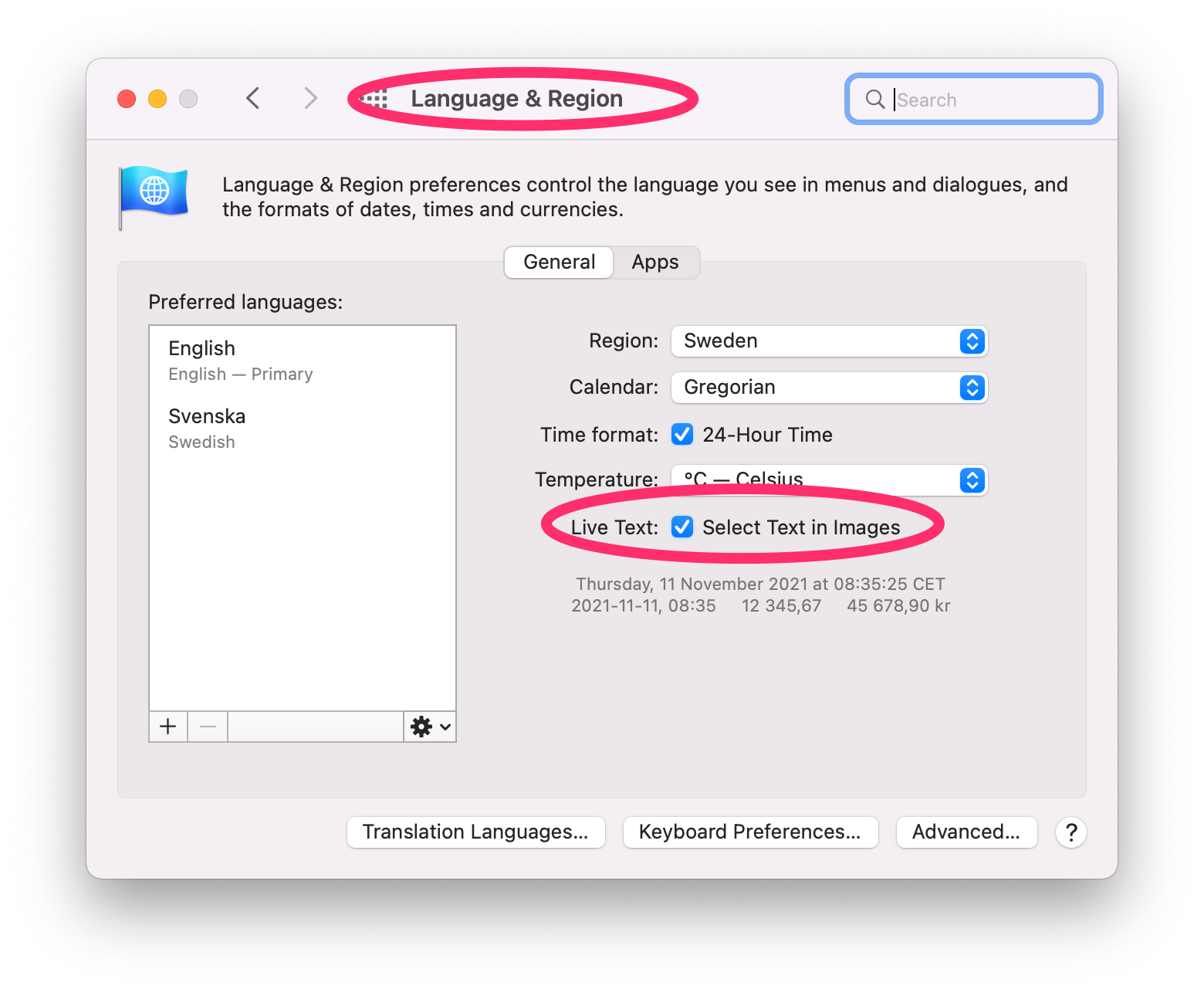 1 on 1 training sessions
It is indeed great fun to meet you guys in my 1 on 1 training sessions. If you haven't tried, it but feel that it might be something for you, please feel free to email me. The training sessions can be about anything and will be customized based on your requests. I have over 25 years of experience in the Mac platform, I have been an Apple Solution Expert and have held training in various software over the years. Training sessions are on request by contacting me at training@brattoo.com. Each session is 1 hour and costs 79 USD. If you want to learn more about something, email me at training@brattoo.com and we'll work out a session just for you.
The free apps section
As I have mentioned in previous letters we have received requests on how to automate some tasks in Apple Photos or tasks related to photos. Those tasks might be tedious to work out manually but are easy for us to solve. The apps include a tool to set the Photos Titles based on the filename (with or without file extension), a tool to copy and apply GPS coordinates between photos, a tool to copy XMP sidecars to image files and finally a utility to set the correct file dates on image files based on the photo date stored in the metadata within the image files. You'll find all our free apps at https://free.brattoo.com.
This newsletter and previous letters
Several of our readers have requested that we resend previous emails so that they could catch up on earlier tips and information. All previous emails are available online in our Newsletter section at https://newsletter.brattoo.com
License upgrade - final call
In October 2016 we began to offer a discount on upgrades from earlier versions of Duplicate Annihilator to either Duplicate Annihilator for Photos or the Duplicate Annihilator Toolbox. Now after five years we are closing this discount. So if you want to upgrade your old license at a discounted price this is the final call.
For only $4.95 you can upgrade any old Duplicate Annihilator license to Duplicate Annihilator for Photos and for just two dollars($2.00) more you can upgrade any old Duplicate Annihilator license to the Duplicate Annihilator Toolbox including a family pack! This means that you get five licenses for you and your family for all versions of Duplicate Annihilator including iPhoto, Aperture, iOS and Photos for only $6.95.
Get the upgrade from: https://upgrade.brattoo.com
Support the creation of these newsletters by becoming a Patreon!
If you enjoy these newsletters and want to support the creation of them, then please consider becoming a monthly contributor by signing up to become a Patreon at https://www.patreon.com/brattoo. Patreons gets access to videos of hints and tips from my newsletters.
Thank you for your time, I hope that you found this email informative. If you have any feedback, suggestions, questions or ideas then please reply to this email. I read all emails and reply to them in person. And, don't forget to stay safe.
Best Regards,
Anders, CEO and Founder, Brattoo Propaganda Software