Improvements to Duplicate Annihilator.
AI in Photos Finder.
Duplicate Annihilator for Photos v9
AI Classroom.
GPTEverything.
AI coming to Duplicate Annihilator and Photos Finder.
Introducing Photos Clicker.
Improvements to Photos Finder.
Photos and People
Introducing Photos Finder.
macOS 13 Ventura feature "Copy Subject" explained.
Photos 8 – how to set up a shared library
Duplicate Annihilator for Photos v8 released
How to search, filter, suggest and "facet" your search in Photos.
How to work with People/faces?
Metadata, what is it and how do I use and edit it?
Introducing Duplicate Annihilator 7.5.0 including fix for iCloud and missing files.
Introducing Duplicate Annihilator v7 including copy metadata from duplicates to originals.
Smart albums for missing people no longer working
Photos 7 and Live Text
Preserve folder and album structure as keywords
Working with Duplicate Annihilator for Photos – part 3
Working with Duplicate Annihilator for Photos – part 2
macOS 10.5 Catalina, Photos 5 and Duplicate Annihilator v4
Working with Duplicate Annihilator for Photos – part 1
Duplicate Annihilator – HEIC format support
What is HEIC?
Hi,
My name is Anders and I'm the CEO of Brattoo Propaganda Software. It's time for another newsletter. It was my intention to send this email last week but a local kid got lost, so I had to prioritise things and I joined Missing People. We spent a lot of the time searching through the local woods, he was found alive and in good health. In this letter I will tell you more about how to work with Duplicate Annihilator, and also about a new idea I have that hopefully will interest you. I hope that you will enjoy it.
A new idea and a new upcoming application
I get a lot of requests for things that you want to do with your photos. Some of those ideas turned into applications in our free section. But, every app created requires time to create, update and maintain. So I was thinking that perhaps a new application that is a platform for many things would be a good idea. It will be like a toolbox. This would make it easier to provide you with more features quicker and easier. It might include small things such as copy, set GPS data and batch renaming photos. I could also Make it easier to use titles with various settings, showing a photo GPS position on Google maps or a connection to external services such as Googles Vision API for tagging. I'm sure you have plenty of ideas that you would like to have implemented, or things than can help you in your daily workflow. Let me know your thoughts by replying to this email.
Working with Duplicate Annihilator for Photos! – part 2
In the last newsletter we learned everything about how to locate your Photos Library, now it is time to run Duplicate Annihilator with the default settings. We will do this to see what Duplicate Annihilator is actually doing, and what all those progress indicators really mean?
Select your library
First, select your Photos Library, this is needed for two things: Duplicate Annihilator needs to know where your library is located and so Duplicate Annihilator can tell Photos to quit and open. This allows it to make sure that any changes already done to your library, are correctly saved before starting to process.
Scan for duplicates
When the Photos Library is selected then the "Scan for duplicates" button will no longer be greyed out and you are ready to go. When you click on it, a few dialog boxes will appear, first a box that tells you which mode you are running in and then if you have made a selection of one or more photos in Photos. Duplicate Annihilator will ask if you want to scan only the selected photos or your whole library.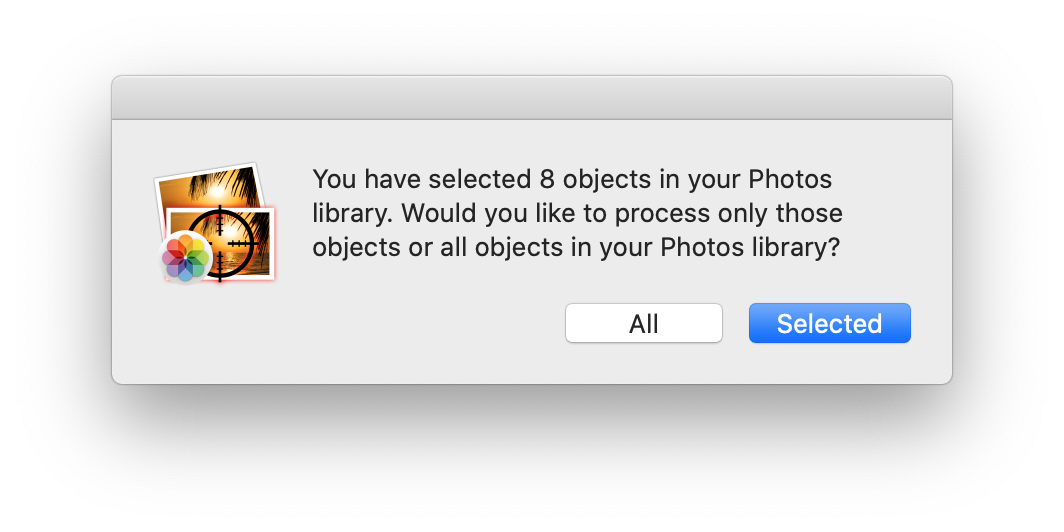 Then the process starts. You might get a spinning beachball or find that Duplicate Annihilator reports are not responding, but don't worry, it is running just fine. In the top right part of the Duplicate Annihilator application we have a few progress indicators that will help you to monitor the progress.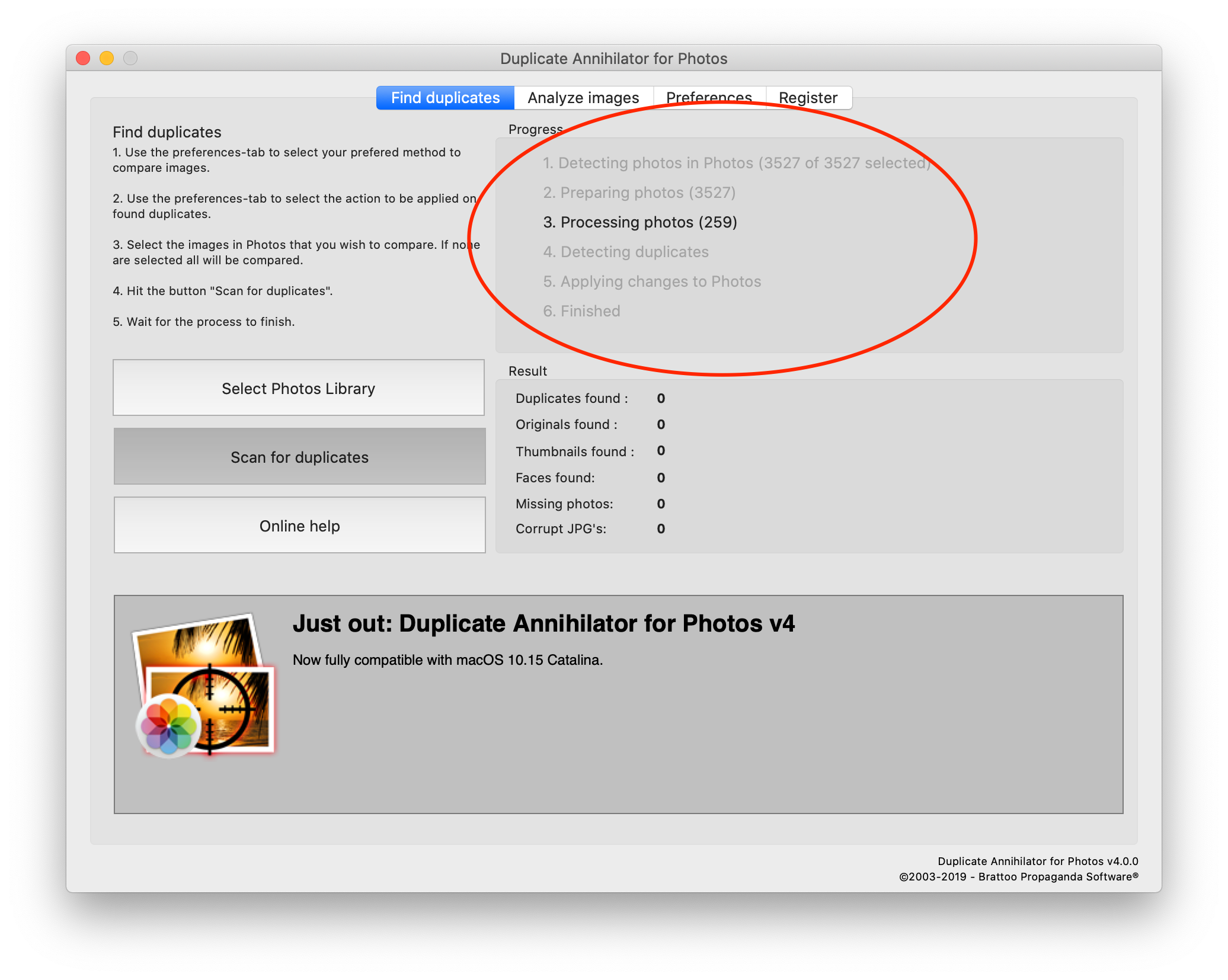 Hint: If the process just seems to go extremely quickly, and all numbers next to the progress indicators are zero, then you most likely have a damaged Photos Library. There is help though, simply quit Duplicate Annihilator and Photos and then hold down the Option and Command keys while starting Photos to repair the library.
The Result
Below the progress indicators is the Result which shows what has been found. Let me walk you through those numbers. First, we have duplicates found which is exactly that. Then we have originals found, an original is the photo kept in a set of duplicates. Photos that do not have a duplicate will be untouched, and not considered an original. Since one original can have multiple duplicates, this also means that the number of originals and duplicates might not be the same.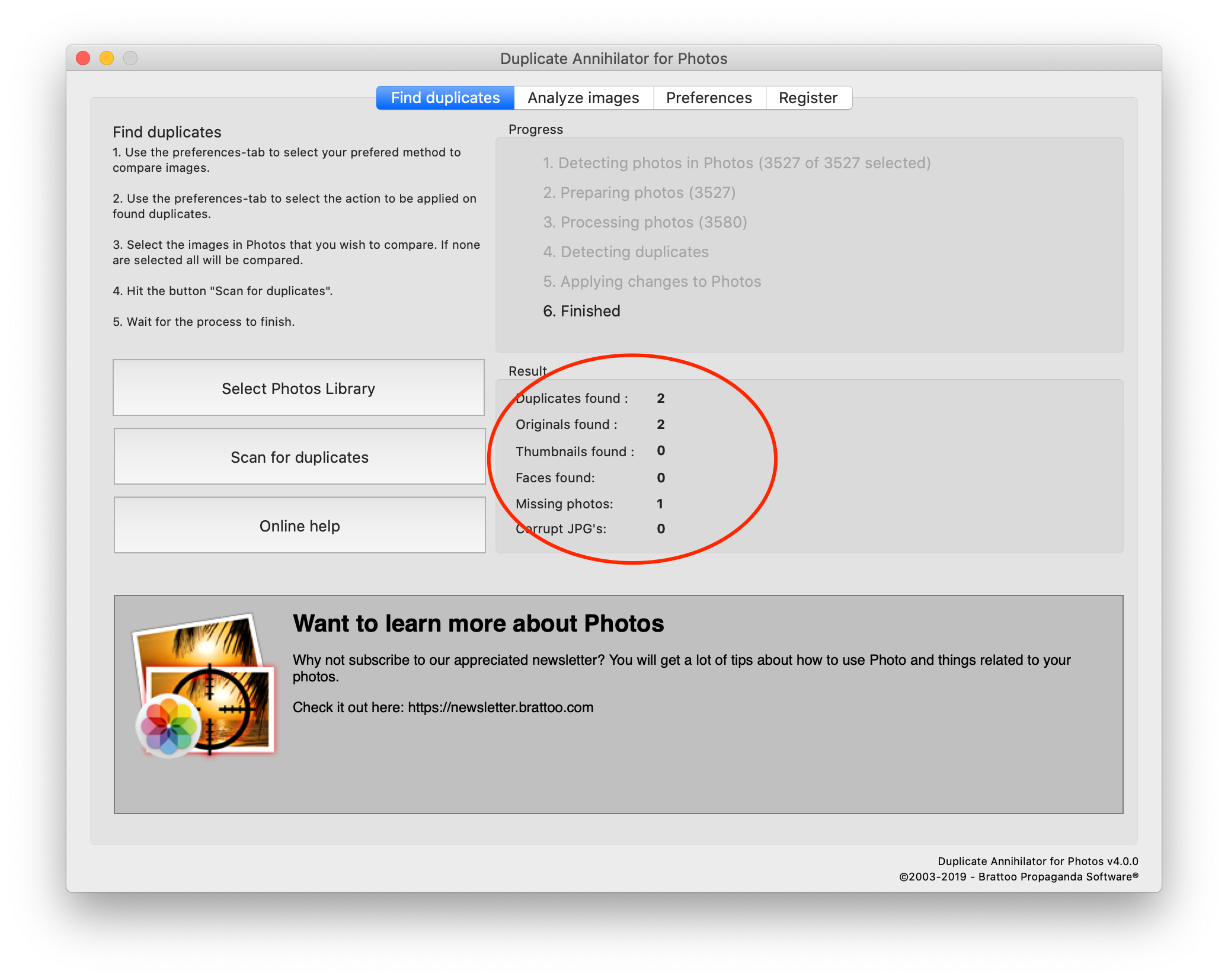 Thumbnails are small photos, by default smaller than 360x360 pixels and less than 100kB. Thumbnails were a big problem in iPhoto. iPhoto could suddenly import it's own internal thumbnails as regular images. One problem with that is that thumbnails, and high resolution images, look the same when browsing the photos. Thumbnails are often misstaken for duplicates, but when looking at each photo one by one, then you'll see the difference.
Missing images are photos that are represented in the Photos database, but the actual image files are not located on your hard drive. This can either be a problem, where your original photos are actually missing, or you simply have a Storage Optimized iCloud Library. A Storage Optimized iCloud Library is where some or most of your images files are actually located online, in your iCloud account, to save space on your local hard drive.
Corrupt files are rare, but we try to detect them by parsing the JPEG data in them. If the parse results in an error, Duplicate Annihilator can mark those as well.
Faces works the same as thumbnails and have the same origin. The faces are 480x480 square pictures, which used to be part of the iPhoto internals. 
So, at this point you probably have a question. If Duplicate Annihilator detects a set of duplicates, how does it decide which one to keep as the original? Well, Duplicate Annihilator chooses the original based on which photo has the highest resolution and largest file size. This way RAW is kept over JPEG, less destructive compression is kept over more destructive compression, and high resolution is kept over low resolution. One aspect to this is that the HEIC format that today's iPhones use, instead of JPEG, generates smaller file sizes but have better quality than JPEG. Therefore, we have the Keep HEIC as the original instead of JPEG setting the the Duplicate Annihilator settings. If you want, you can read more about the HEIC format in a previous newsletter.
What happens now?
So, Duplicate Annihilator found some duplicates, what do we do now? By default, all duplicates detected by Duplicate Annihilator have had their description/comments field set to the word "duplicate". This way they are easily located and easy to delete in Photos. Use the search filed in the upper right corner of the Photos application and search for "duplicate".  Please make sure that you don't search for "duplicates". The shown photos are your duplicates and you can select them all (Command+A) and delete (Backspace) the duplicates with just a few mouse clicks or keyboard shortcuts.
There is more
There are plenty of useful settings in Duplicate Annihilator and more tips and tricks on how to use Duplicate Annihilator, but more about that in the next newsletter.
Black weekend
So, as I mentioned in the beginning of this newsletter I intended to release this newsletter last week but had to prioritize other things. And now it is Black Friday Weekend, I hope this newsletter is not lost among all other emails in your inbox. But since it is Black Friday Weekend, I should offer a discount code, here it is! A 50% Black Friday Weekend discount code for you and friends: BLACK
This newsletter and previous letters
Several of our readers have requested that we resend previous emails so that they could catch up on earlier tips and information. All previous emails are available online in our Newsletter section at https://newsletter.brattoo.com
The free apps section
As I have mentioned in previous letters we have received requests on how to automate some tasks in Apple Photos or tasks related to photos. Those tasks might be tedious to work out manually but are easy for us to solve. The apps include a tool to set the Photos Titles based on filename (with or without file extension), a tool to copy and apply GPS coordinates between photos and finally a utility to set the correct file dates on image files based on the photo date stored in the metadata within the image files. You'll find all our free apps at https://free.brattoo.com.
Upgrades
Finally I would just like to tell you that our upgrade discount for Duplicate Annihilator for Photos is still available. For only $4.95 you can upgrade any old Duplicate Annihilator license to Duplicate Annihilator for Photos and for just two dollars($2.00) more you can upgrade any old Duplicate Annihilator license to the Duplicate Annihilator Toolbox including a family pack! This means that you get five licenses for you and your family for all versions of Duplicate Annihilator including iPhoto, Aperture, iOS and Photos for only $6.95.
Get the upgrade from: https://upgrade.brattoo.com
Thank you for your time, I hope that you found this email informative. If you have any feedback, suggestions, questions or ideas then please reply to this email. I read all emails and reply to them in person.
Best Regards,
Anders, CEO and Founder, Brattoo Propaganda Software