Improvements to Duplicate Annihilator.
AI in Photos Finder.
Duplicate Annihilator for Photos v9
AI Classroom.
GPTEverything.
AI coming to Duplicate Annihilator and Photos Finder.
Introducing Photos Clicker.
Improvements to Photos Finder.
Photos and People
Introducing Photos Finder.
macOS 13 Ventura feature "Copy Subject" explained.
Photos 8 – how to set up a shared library
Duplicate Annihilator for Photos v8 released
How to search, filter, suggest and "facet" your search in Photos.
How to work with People/faces?
Metadata, what is it and how do I use and edit it?
Introducing Duplicate Annihilator 7.5.0 including fix for iCloud and missing files.
Introducing Duplicate Annihilator v7 including copy metadata from duplicates to originals.
Smart albums for missing people no longer working
Photos 7 and Live Text
Preserve folder and album structure as keywords
Working with Duplicate Annihilator for Photos – part 3
Working with Duplicate Annihilator for Photos – part 2
macOS 10.5 Catalina, Photos 5 and Duplicate Annihilator v4
Working with Duplicate Annihilator for Photos – part 1
Duplicate Annihilator – HEIC format support
What is HEIC?
Hi,
My name is Anders and I'm the CEO of Brattoo Propaganda Software. A bit too much time has passed between this and my last newsletter, so much has happened. We dropped all Covid restrictions here in Sweden and just a week later Ukraine was invaded, so we went from a crazy world to an even worse world. We can all just hope for this to end soon. In my last newsletter I wrote about metadata in Photos what it is and how to use and edit it. This time I will carry on with a feature that I get a lot of questions about, the people section.
Take care and stay safe.
What is People?
Photos recognizes faces and it is really, really good at it! The more you use it the better it gets. When I get the question whether Photos is any good at identifying people I usually tell them about my three kids. They looked almost  identical when they were younger, and my wife and I struggle to tell them apart in old photos. Photos though seems to identify them almost spot on, which is impressive to say the very least. And it get's better and better the more you help the built in algorithms to confirm faces.
So let's get started with People. If you haven't used it before you'll find it in the left frame of the Photos application.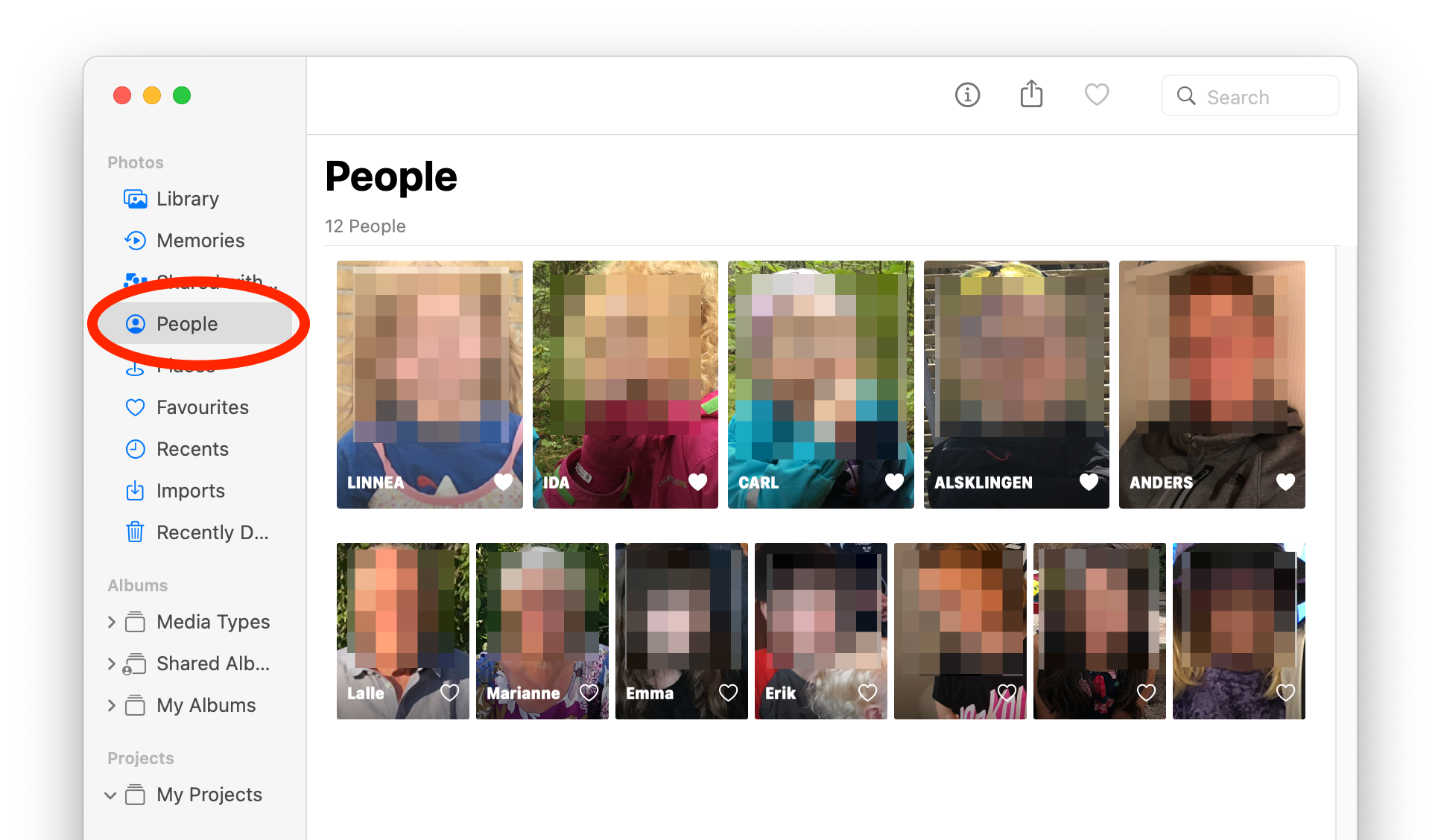 Naming and making favorites
The first thing you should do is to assign names to those who are important to you. The easiest way is to simply move the mouse pointer to the photo and a label will appear where you can add a name:

You can also click on the heart symbol in the photo which will make it a favorite. Favorites are placed on top with a slightly larger image than the rest of the photos.
It is also possible to name a person by double clicking on the photo and then use the "Add name" button on the top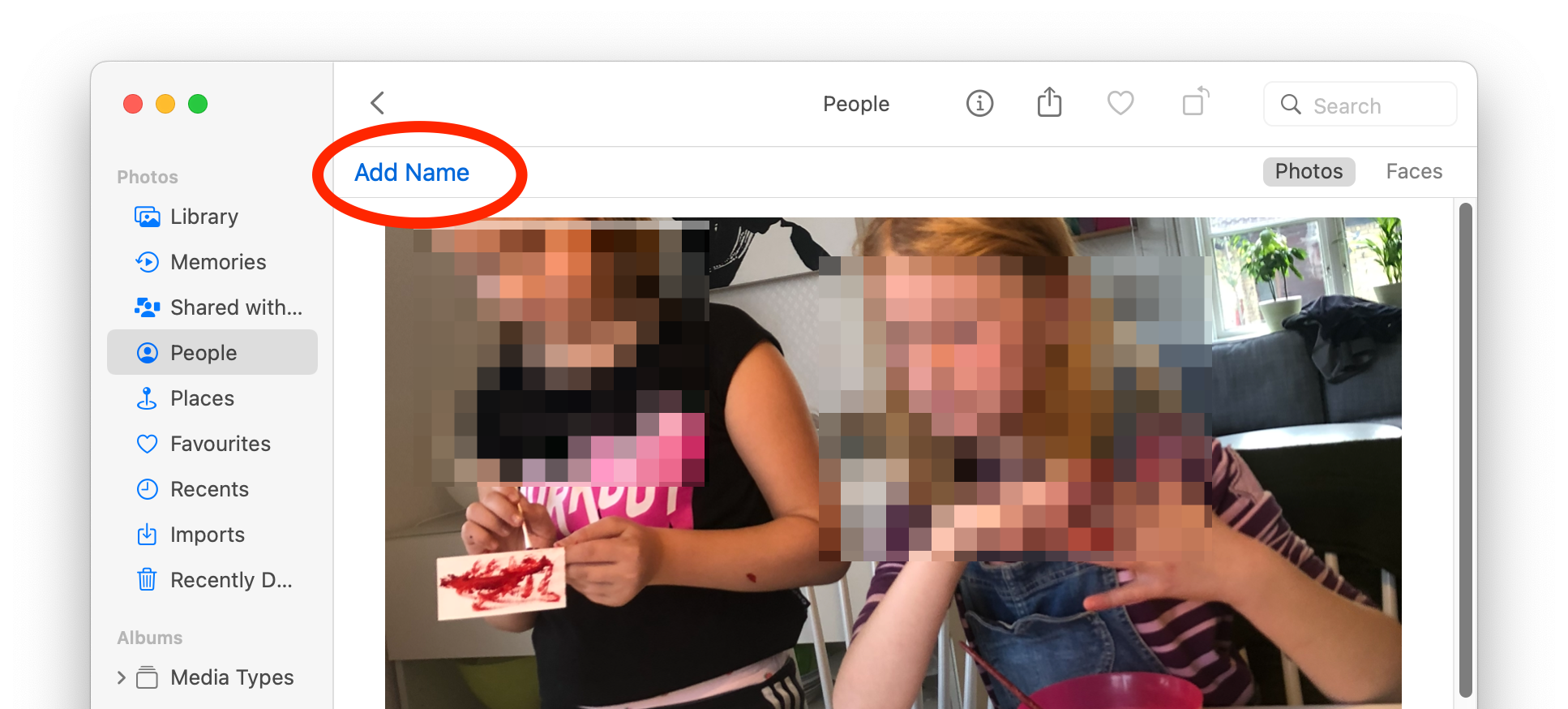 If you have enabled the feature "Show face names" with the menu item View→Show Face Names then you can also assign names directly when browsing your photos.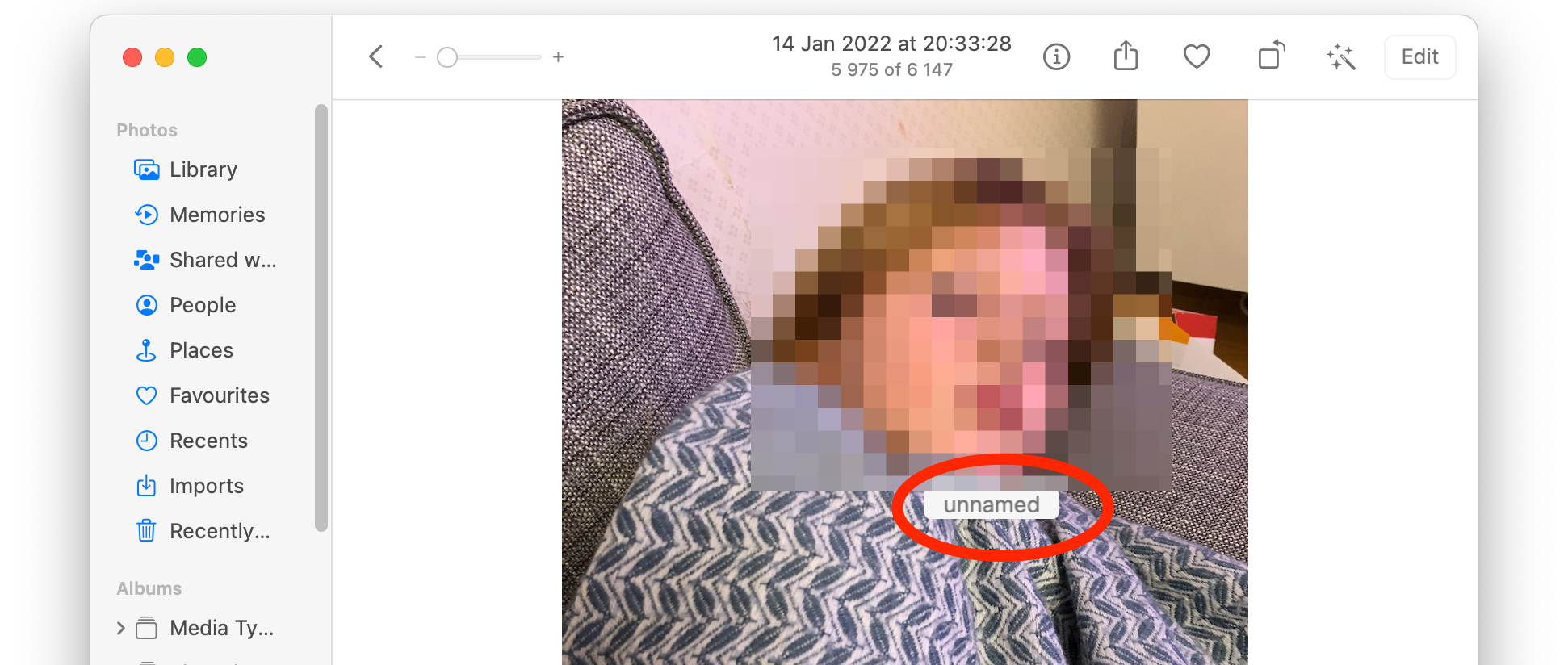 Merging people
Especially in the beginning Photos may recognise the same person as two different people, and you end up with two (or more) placeholders in the People view of the same person. If that happens, you can merge them either by dragging them to each other, one at a time, or by selecting two or more people placeholders, right click on them and select "Merge People".

Removing people
Another aspect if cleaning up your people view is removing unwanted people. And that is as easy as merging, just right click on one or a selection of unwanted people and select "Remove People". Unwanted people will be a reoccurring thing since a photo with unknown and new faces will eventually be detected by Photos. I have to admit that I don't know if Photos is so smart that once you have removed an unwanted person from the People view, that Photos will not add that person again. If you know, if removed people are automatically removed when new photos are imported, then please let me know.
Training Photos
Photos uses something called Machine Learning to detect faces, this means that by helping it to confirm that a certain photo really contains a certain person. The algorithms get smarter and smarter, and better at detecting and identifying people. This can be done in two ways. If you double click on a person in the People View you might get this request:

Click on Review and you will be presented to a 3x3 grid with photos. Unselect any face that is incorrect and click on done.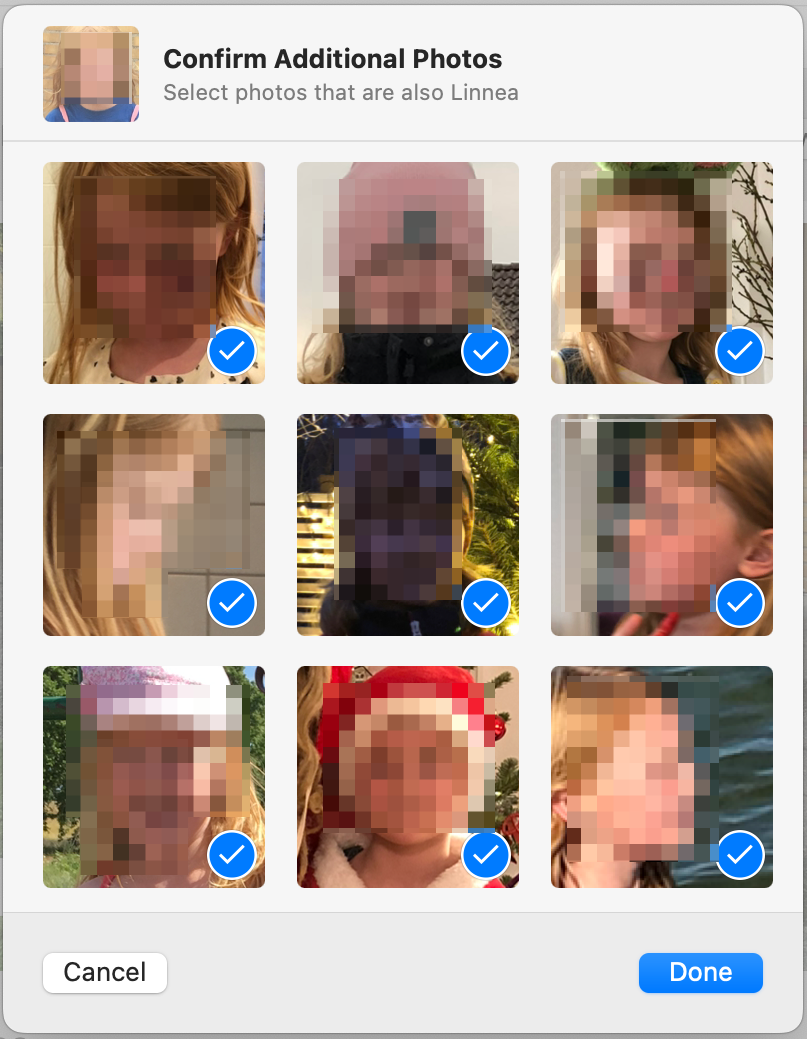 Another way of helping the algorithms improve is to scroll down to the bottom of a person's view and click on "Confirm Additional Faces". Now you will be presented one photo at a time and you need to confirm if the photo contains the person or not.

Doing this can be quite satisfying as Photos also gives feedback on how many photos are added when confirming a face. In the screenshot above we can see that 51 photos have been added to this person, although I have only confirmed four photos to achieve this. If you accidentally clicked on the wrong button when confirming a face then you can undo it by using the key combination Command+Z or by using the menu Edit→Undo Confirm Face.
Confirming faces can include many photos, so if you want to take a break, you can click on "Done" in the upper right corner to finish confirming photos for now.
Adding undetected faces
Most faces are detected by Photos but sometimes they are not. In that case you can add them manually from the Info window (Command+I) by clicking on the +-icon in the people section.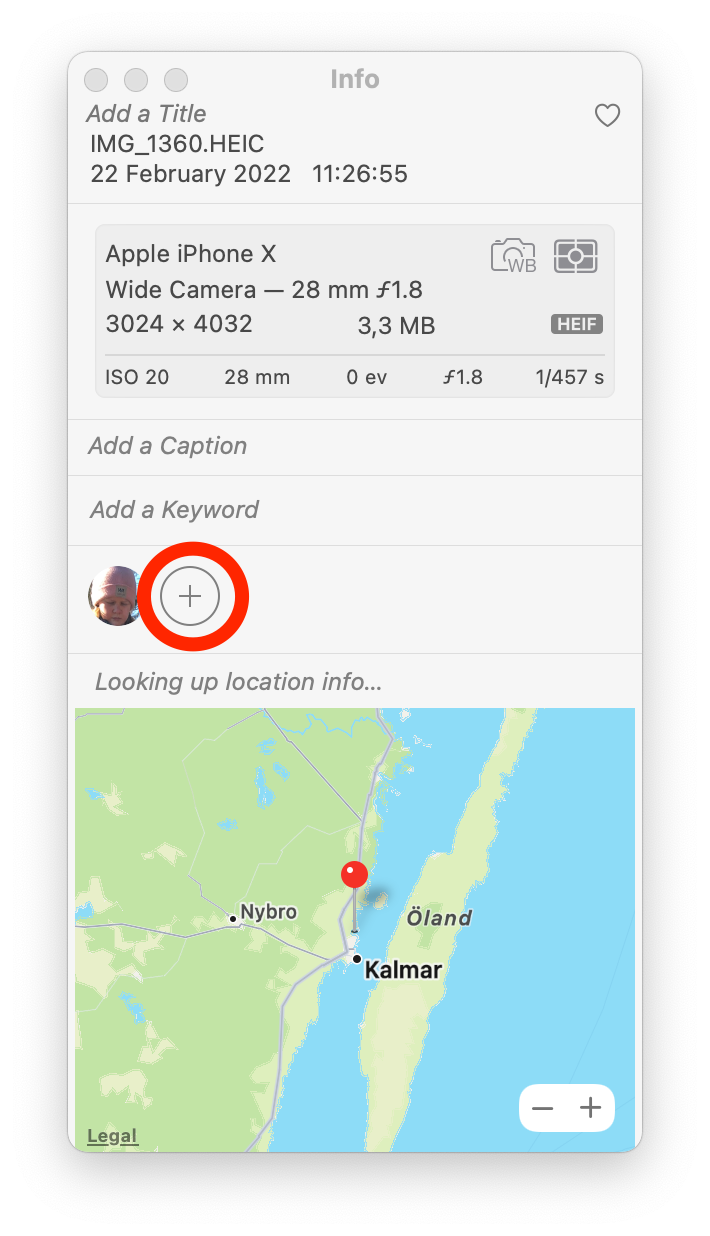 When you have clicked on the +-icon a ring will appear in the photo. You now need to move and resize that ring so that it covers the face of the unidentified face, and then assign a name to it. It might not be super clear how the ring works so here it is. To move the ring, click and drag anywhere in the ring. To resize it click and drag the knob on the right part of the ring. You can also assign a name and delete the manually added face.

Why use People?
There are many reasons why you should add metadata to your photos. My favorite use for persons is to create a smart album that only lists the members of my family. Since Photos automatically detects people, and smart albums update automatically, the album is always up to date automatically. Just remember to set it to match any condition, otherwise it will only show photos where all family members are in that same photo which might be a bit rare.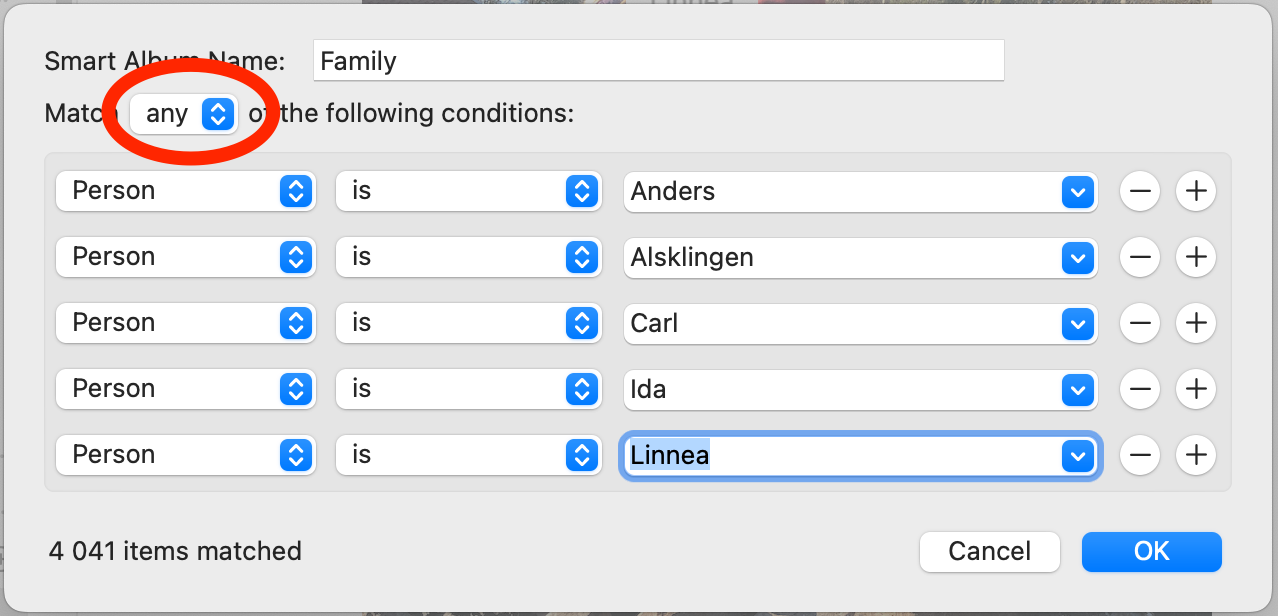 Another thing is the memories that Photos automatically creates. Every now and then a memory is created based on an identified person. If you don't want Photos to create memories of a certain person then you can go to the people view and double click on that person and scroll down to the bottom and click on "Feature this Person Less".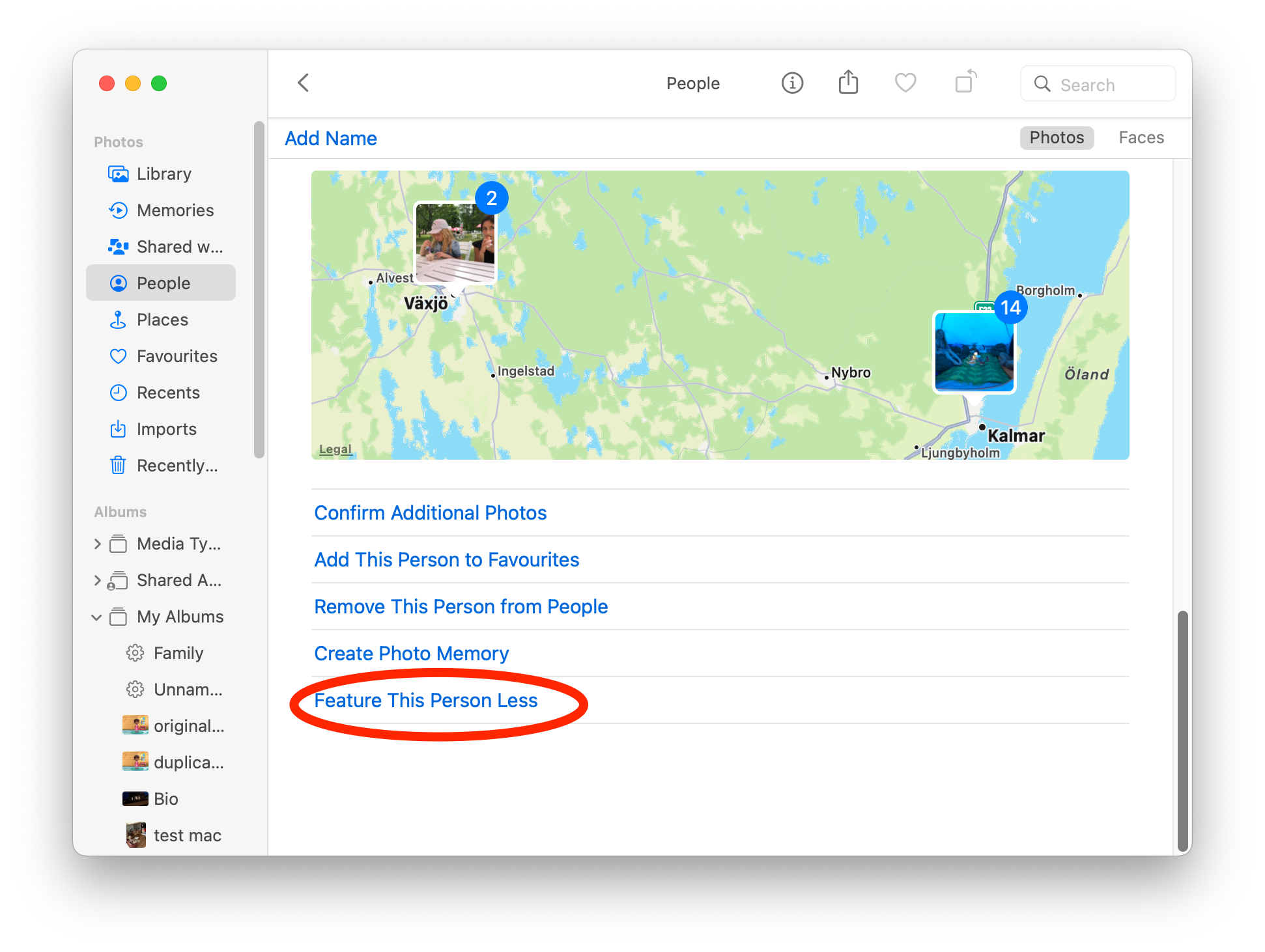 If you feel that you have clicked on "Feature this Person Less" a little too much or on too many people, then you can always reset this by clicking on "Reset Suggested People" in the Photos Preferences.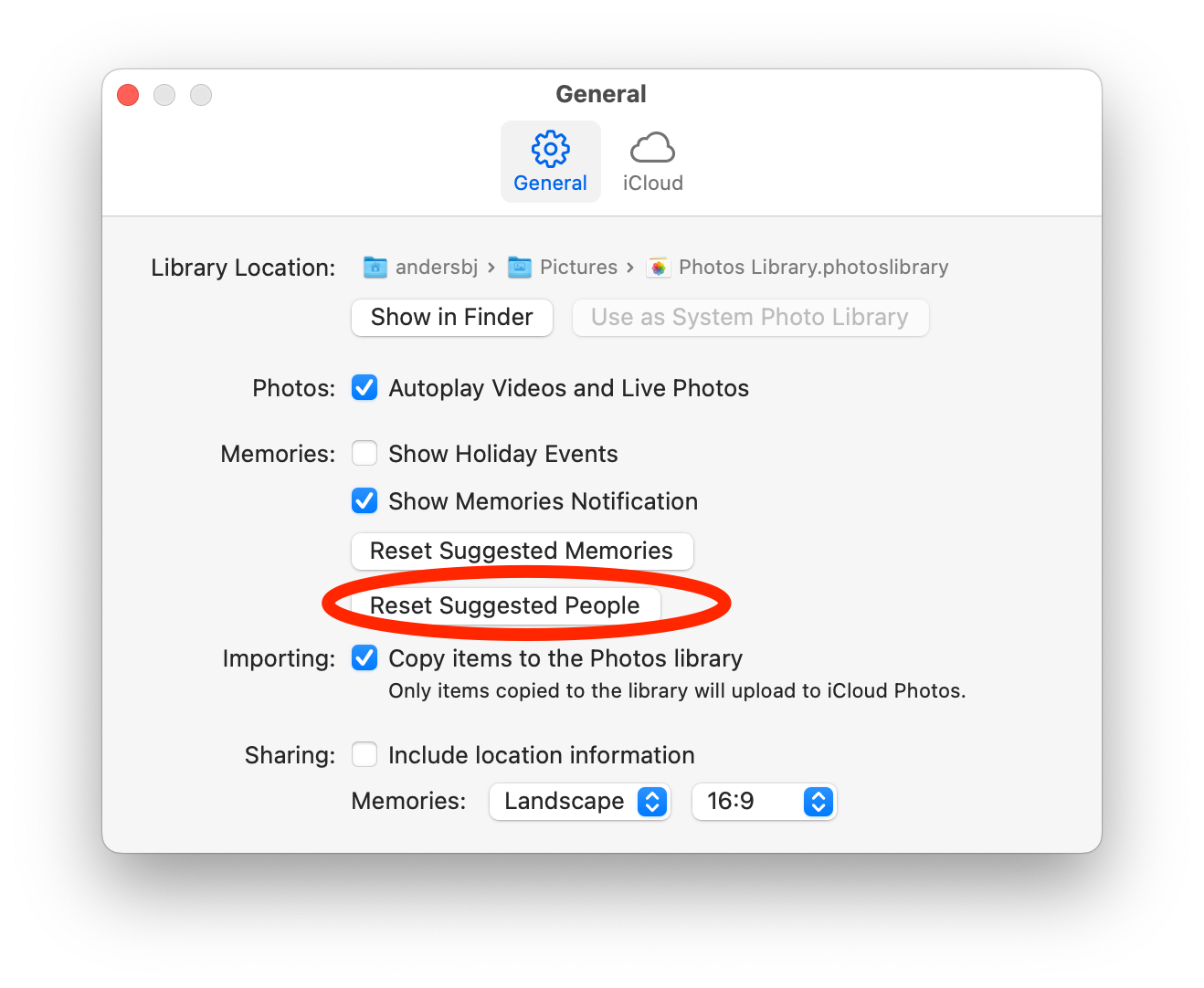 Unnamed People
Is there an easy way to locate photos where there are unnamed people? I have written about this before in a previous newsletter (issue 36 issue 34 and issue 10) and it has from time to time been possible to do this by creating a smart album.

When macOS 12.3 was released Mick from North Carolina emailed me telling me that the smart album trick once again seems to work. And I can confirm that it does seem to work. An interesting aspect this time seems to be that it also lists photos with people where there are no "unnamed" placeholders, as if it has detected the persons but not the faces. It would be interesting to hear if this trick works for you or not, so try it and email me.
People and third party applications
So, you have spent a lot of effort identifying people in Photos. Can those be used by a third party application somehow? Yes, but it depends on how you export them from Photos. If you drag a photo from Photos to the desktop the information about the people will not be included. If you use the File→Export→Export Photo then the names of the people in the photo will be included in the metadata of the photo. For those of you who like to dig down in technical details, it will be stored in iptcExt:PersonInImage which is the correct and expected place. But beware when using the File→Export→Export Unmodified Original and the checkbox "Export IPTC as XMP" the people in the photos are exported as keywords, instead of PersonInImage. Very unexpected for us who work with those kind of things.
Apple, if you are reading this…
I know that there are people at Apple reading this newsletter, and I know that there are people at the Photos team at Apple that read this, so here is a suggestion of improvement for you. Your algorithm identifies my almost identical kids nearly spot on. Sometimes it does mistakes though, especially in photos of newborns. So here is an idea for you, use the photo date as well. Let's say that I have confirmed a thousand photos of my son when he is in the age of about 0 to 1 years old. I know that your algorithms can identify that those are pictures of a really small child since you automatically create memories of his first year. So with this in mind, isn't it highly unlikely that he would appear in photos where the photo date is five years earlier than those of his birth? Isn't it more likely that those photos are of someone else, perhaps one of his siblings?
The photo date would also be really nice to have in the "Confirm additional Photos view", it would help a lot to figure out who's in the photo.
Another thing that would be truly awesome in the People view would be the ability to group people like "the Smith family" or "colleagues" and so on. Another aspect would be the ability to relate persons in the people view such as father, mother, sister, brother, son. It would open up for completely new ways of organizing and use photos. Grouping people can be done with smart libraries, as described in a previous newsletter, but I think that it would be really nice to be able to do it in the People view.
1 on 1 training sessions
It is indeed great fun to meet you guys in my 1 on 1 training sessions. If you haven't tried, it but feel that it might be something for you, please feel free to email me. The training sessions can be about anything and will be customized based on your requests. I have over 25 years of experience in the Mac platform, I have been an Apple Solution Expert and have held training in various software over the years. Training sessions are on request by contacting me at training@brattoo.com. Each session is 1 hour and costs 79 USD. If you want to learn more about something, email me at training@brattoo.com and we'll work out a session just for you.
The free apps section
As I have mentioned in previous letters we have received requests on how to automate some tasks in Apple Photos or tasks related to photos. Those tasks might be tedious to work out manually but are easy for us to solve. The apps include a tool to set the Photos Titles based on the filename (with or without file extension), a tool to copy and apply GPS coordinates between photos, a tool to copy XMP sidecars to image files and finally a utility to set the correct file dates on image files based on the photo date stored in the metadata within the image files. You'll find all our free apps at https://free.brattoo.com.
This newsletter and previous letters
Several of our readers have requested that we resend previous emails so that they could catch up on earlier tips and information. All previous emails are available online in our Newsletter section at https://newsletter.brattoo.com
License upgrade - final call?
It was supposed to be the final call for discounted upgrades and we did discontinue it for a short period but received so many requests so we decided to open it up again. After all, we do try to be nice guys.
For only $4.95 you can upgrade any old Duplicate Annihilator license to Duplicate Annihilator for Photos and for just three dollars($3.00) more you can upgrade any old Duplicate Annihilator license to the Duplicate Annihilator Toolbox including a family pack! This means that you get five licenses for you and your family for all versions of Duplicate Annihilator including iPhoto, Aperture, iOS and Photos for only $7.95.
Get the upgrade from: https://upgrade.brattoo.com
Support the creation of these newsletters by becoming a Patreon!
If you enjoy these newsletters and want to support the creation of them, then please consider becoming a monthly contributor by signing up to become a Patreon at https://www.patreon.com/brattoo. Patreons gets access to videos of hints and tips from my newsletters.
Thank you for your time, I hope that you found this email informative. If you have any feedback, suggestions, questions or ideas then please reply to this email. I read all emails and reply to them in person. And, don't forget to stay safe.
Best Regards,
Anders, CEO and Founder, Brattoo Propaganda Software