Improvements to Duplicate Annihilator.
AI in Photos Finder.
Duplicate Annihilator for Photos v9
AI Classroom.
GPTEverything.
AI coming to Duplicate Annihilator and Photos Finder.
Introducing Photos Clicker.
Improvements to Photos Finder.
Photos and People
Introducing Photos Finder.
macOS 13 Ventura feature "Copy Subject" explained.
Photos 8 – how to set up a shared library
Duplicate Annihilator for Photos v8 released
How to search, filter, suggest and "facet" your search in Photos.
How to work with People/faces?
Metadata, what is it and how do I use and edit it?
Introducing Duplicate Annihilator 7.5.0 including fix for iCloud and missing files.
Introducing Duplicate Annihilator v7 including copy metadata from duplicates to originals.
Smart albums for missing people no longer working
Photos 7 and Live Text
Preserve folder and album structure as keywords
Working with Duplicate Annihilator for Photos – part 3
Working with Duplicate Annihilator for Photos – part 2
macOS 10.5 Catalina, Photos 5 and Duplicate Annihilator v4
Working with Duplicate Annihilator for Photos – part 1
Duplicate Annihilator – HEIC format support
What is HEIC?
Hi,
My name is Anders and I'm the CEO of Brattoo Propaganda Software. In my last newsletter I wrote about how to improve your search skills in Photos by using Suggest and Facets. This time I will have a look at what is new in Photos 8 that comes with macOS 13 Ventura, released as a public beta this summer and as final product later this year. With Photos 8 Apple really catches up and implements a lot of really requested features. I hope that you will find this interesting.
Take care and stay safe.
Photos 8 – copy and paste location
This is a feature that has been requested for decades dating back to iPhoto and Aperture when it was quite common that you took photos with a camera without built in GPS and thereby your photos had no meta data of where they were shot. A common trick was to take a photo with your iPhone to keep the location and then copy that location into the photo shot with your other camera with better optics. This was done using third party applications such as our free software Photos Set Longitude and Latitude which is available for download from https://free.brattoo.com. Now, with Photos 8 that is a built in feature and you can access it with the menu item: Image→Location→Copy Location.

Photos 8 – copy and paste edits
Another much requested feature which, if I remember things correctly, you could do in Aperture. So let's say that you shot a series of photos in the same location with the same lighting. You open one of the photos in Photos and carefully apply edits and adjustments to get that perfect color/luminance/balance that you want in your photo. It turns out great and now you just have to do the exact same edits for every other photo from that photo session. This was extremely time consuming and tiresome and often we just gave up or procrastinated. However, with Photos we can finally copy all the edits from one photo into other photos. This makes it much easier to touch up many photos the way you want them. You will find this new feature in the menu item: Image→Copy Edits. Not all edits are copied though, some things like cropping are not copied.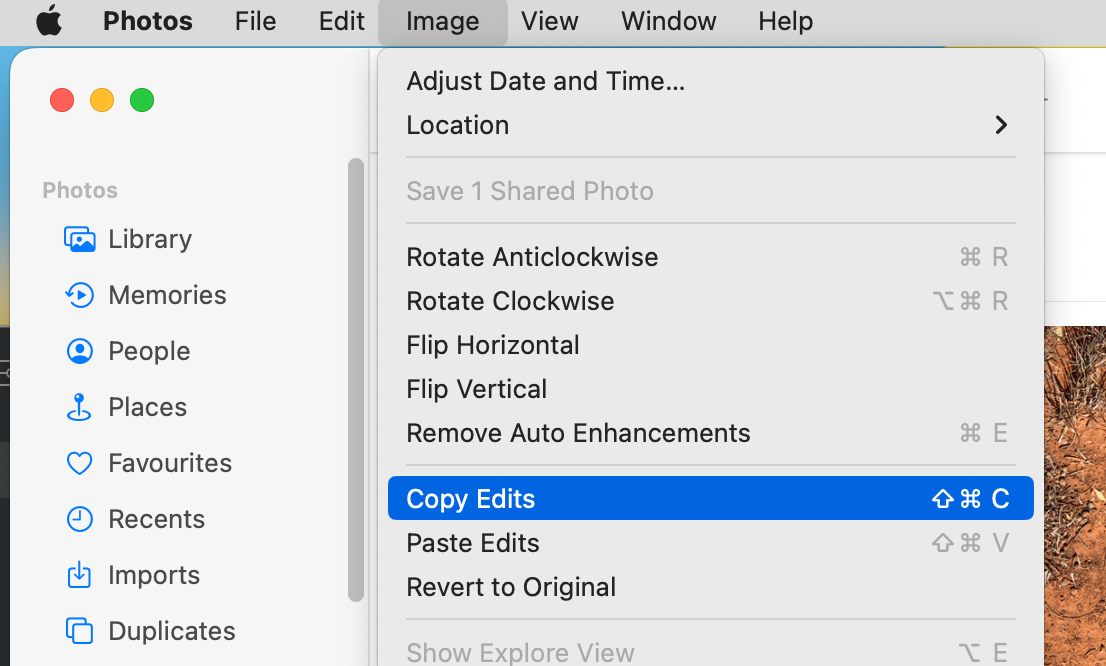 In this screenshot you might see another new feature, that is the Remove Auto Enhancement. This can also be nice since up until now many of us just went for the Auto Enhancement on our photos, since the copy and paste edits were not available. If you have used Auto enhancement, and applied your own edits, Photos seems to know which ones have been done by the Auto Enhancement feature! So only those remain, and keeps the additional edits done by you. 
Photos 8 – Password protected hidden and deleted files
I have previously written about the hidden feature in Photos where you can hide photos so that they don't appear in your library, but you still have the option to show them. A nice alternative to deletion, and I usually compare this feature with how we used to deal with photos before the digital age. The good photos we put in an album, the other ones we put in a box but we didn't throw them away. There might be other reasons why we delete and hide photos as well and sometimes it is because we don't want others to be able to access them. With Photos 8 it is now possible to password protect both the hidden and the deleted photos so that no one but yourself can access them. This also goes for smart albums that lists photos which are hidden.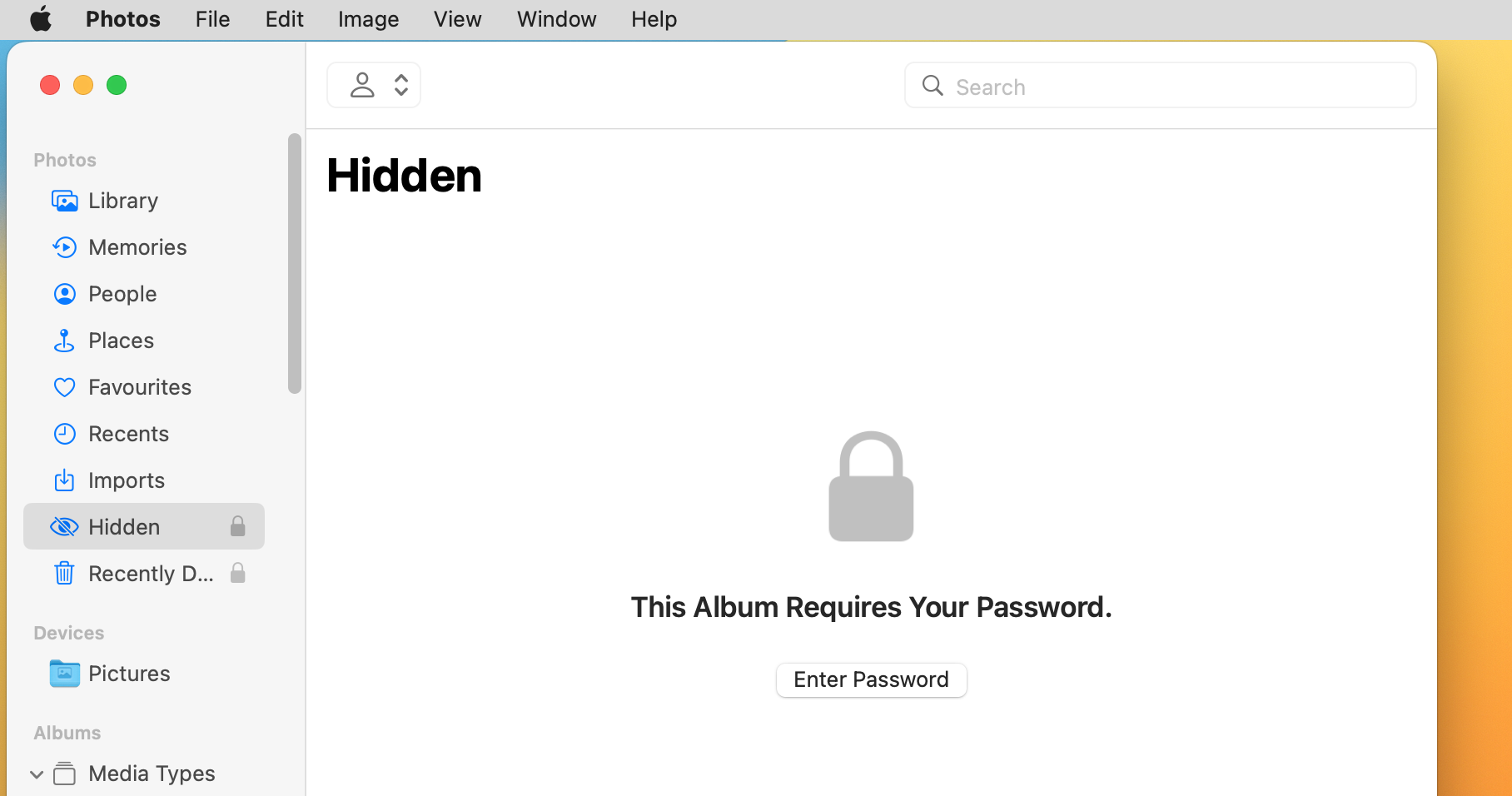 Photos 8 – Shared Library
This is the number one most asked for feature ever! How do I share my Photos library with my family? Until now we have had the option to use the Shared Albums feature in Photos which was terrible, to put it mildly. Now we have this new feature called Shared Library. This new feature was presented at WWDC on the 6th of June and was just recently released in macOS 13 beta 3 for registered developers. Initially it seems pretty straight forward, but once you start digging into it it gets more and more complicated. So I have spent the last week trying to grasp all aspects of it and I have come to the conclusion that I will give its brief overlook here, and dedicate my next newsletter to a deep dive into this new abyss.
In short you can create a Shared library and invite up to five other persons to participate in it. They will be able to browse, add, edit and delete the photos in that shared library as they please. When enabling Shared Library your library is split in two iCloud libraries that lives closely together, a private and a shared library. Perhaps two separate libraries isn't the right word either, perhaps we should think of them as buckets or channels or something in those terms. Either way, you have a private place and a shared place to put your images. A photo can't exist in both the private and the public library without being duplicated.
In Photos you can choose to show only the private, the shared or both libraries.

When you create a shared library you will be asked which photos you want to move to the shared  library. A nice touch is the ability to choose photos based on people.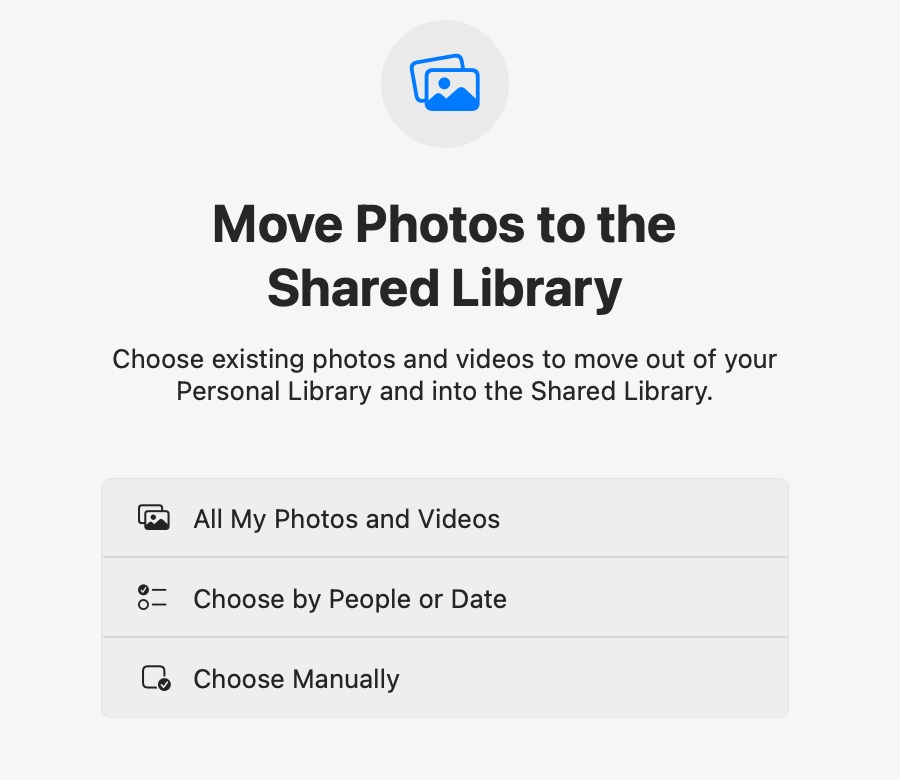 If you are not sharing all your hotos the Photos will start to give you a suggestion on what you might want to share. This also happens for those who you share your library with, so that they can start to add content.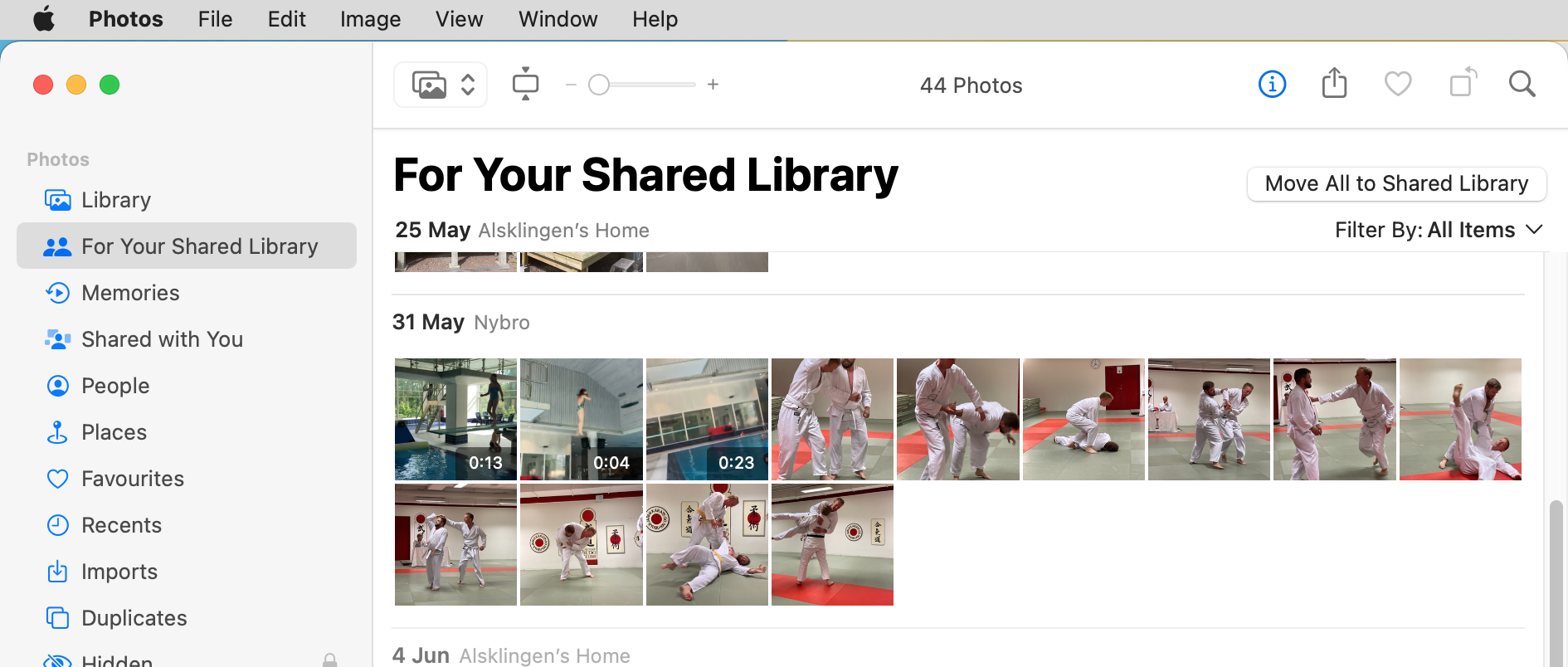 So, to keeps things short; this is a Pandoras box and raises a lot of questions like what happens if you get invitations to multiple libraries, what happens if you invite the one who invited you. Will you get duplicates if invited users start to add photos to your share library, or do they get the duplicates and so on? So I'll stop here and get back to this in my next newsletter.
Photos 8 - detecting duplicates
Yes, that is right Photos finally got duplicate detection. 20 years ago iPhoto was released and the year after, in 2003, the first version of Duplicate Annihilator was released. So, needless to say, this will be bad for my business. So let's bite the bullet and compare Duplicate Annihilator to Photos built in duplicate detection.
Photos seems to detect duplicates with an algorithm similar to the Perceptive mode in Duplicate Annihilator. That means that duplicates are detected based on content rather than binary data. So that photo that looks the same, even if they are in different resolution, compression or format are detected as duplicates. This also means that you can't tell Photos to detect only exact duplicates which you can do in  Duplicate Annihilator. I'll get back to this later and why Duplicate Annihilator does this better.
When a set of duplicates are detected, Photos keeps the one with the highest quality as the original. This means that HEIC is kept over JPEG and RAW is kept over JPEG. This is how both Photos and Duplicate Annihilator work. Both applications also try to keep the one with the highest resolution as the original. However, I have encountered a few cases where Photos decides to keep the low resolution photos as the original. Why this is is hard to tell, but we have to keep in mind that Photos is still in beta when I tested this.
The next important thing is the merging of metadata such as titles, location, captions, keywords and albums. Both Duplicate Annihilator and Photos does this, however Photos does not merge the titles. Photos seems to choose one of the titles, and it seems to be a bit random which one it chooses. The same goes for modified dates and location, it seems a bit random which one is kept in Photos. There are ways to determine which one to keep which we do in Duplicate Annihilator, but since I know that people in the Apple Photos development team are reading this, I won't tell how it is done.
Why use Duplicate Annihilator?
With the built in duplicate detection this is reasonable question. Here are some benefits with Duplicate Annihilator:
Everything on one sweep – Duplicate Annihilator will scan your whole library and then it is done. Photos seems to do its scan in the background and every now and then it detects duplicates even among photos imported a long time ago. This also means that the duplicate detection in Photos is probably dependent on the same background process that does other analyses. Other analyses such as people detection and as many of us know this process can hang and be impossible to start.
Detect only exact duplicates – Both Duplicate Annihilator and Photos can detect duplicates based on perceptual aspects of the photos, what it looks like. But this also means that if you want to keep both the HDR and non HDR version or the JPEG and RAW version of the same photo then you can't in Photos, but you can with Duplicate Annihilator.
Perceptual hash effectiveness – Perceptual hashes have both pros and cons, the pros are that they can detect photos that looks the same, the con is that this is quite complex and you might get false duplicates. I have only tested Photos duplicate detection for a few days and found some issues with false positives: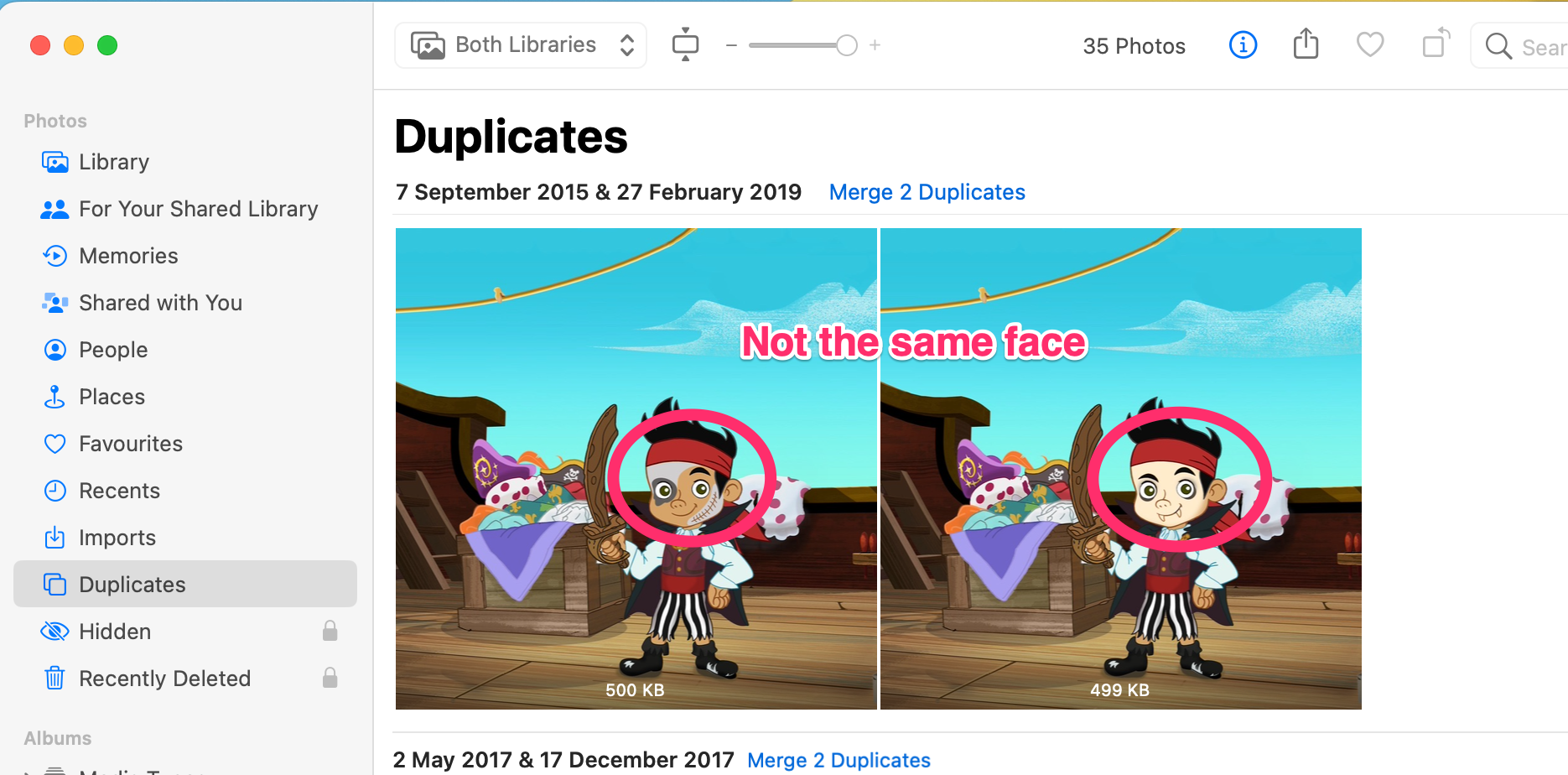 In this test I used a library containing 642 photos. Photos found 7 duplicates in which two were false, Duplicate Annihilator found 22 which all turned out to be correct. So with that in mind, it is wise to be a bit careful before going all in and merge all duplicates detected in Photos. But, as I previously wrote, Photos 8 is still in beta and things might change.
Duplicate Annihilator for Photos – still going strong
In Duplicate Annihilator for Photos v8.3.0 we added support for Mac OS 13 Ventura and Photos 8 which means that Duplicate Annihilator is now the only product on the market which supports duplicate detection in all eight major releases of Photos stretching over nine major releases of MacOSX and macOS. Get it from https://brattoo.com/#photos
1 on 1 training sessions
It is indeed great fun to meet you guys in my 1 on 1 training sessions. If you haven't tried, it but feel that it might be something for you, please feel free to email me. The training sessions can be about anything and will be customized based on your requests. I have over 25 years of experience in the Mac platform, I have been an Apple Solution Expert and have held training in various software over the years. Training sessions are on request by contacting me at training@brattoo.com. Each session is 1 hour and costs 79 USD. If you want to learn more about something, email me at training@brattoo.com and we'll work out a session just for you.
The free apps section
As I have mentioned in previous letters we have received requests on how to automate some tasks in Apple Photos or tasks related to photos. Those tasks might be tedious to work out manually but are easy for us to solve. The apps include a tool to set the Photos Titles based on the filename (with or without file extension), a tool to copy and apply GPS coordinates between photos, a tool to copy XMP sidecars to image files and finally a utility to set the correct file dates on image files based on the photo date stored in the metadata within the image files. You'll find all our free apps at https://free.brattoo.com.
This newsletter and previous letters
Several of our readers have requested that we resend previous emails so that they could catch up on earlier tips and information. All previous emails are available online in our Newsletter section at https://newsletter.brattoo.com
License upgrade - final call?
It was supposed to be the final call for discounted upgrades and we did discontinue it for a short period but received so many requests so we decided to open it up again. After all, we do try to be nice guys.
For only $4.95 you can upgrade any old Duplicate Annihilator license to Duplicate Annihilator for Photos and for just three dollars($3.00) more you can upgrade any old Duplicate Annihilator license to the Duplicate Annihilator Toolbox including a family pack! This means that you get five licenses for you and your family for all versions of Duplicate Annihilator including iPhoto, Aperture, iOS and Photos for only $7.95.
Get the upgrade from: https://upgrade.brattoo.com
Support the creation of these newsletters by becoming a Patreon!
If you enjoy these newsletters and want to support the creation of them, then please consider becoming a monthly contributor by signing up to become a Patreon at https://www.patreon.com/brattoo. Patreons will get access to my monthly zoom get together where we can ask questions and learn new things related to Photos and Duplicate Annihilator.
Thank you for your time, I hope that you found this email informative. If you have any feedback, suggestions, questions or ideas then please reply to this email. I read all emails and reply to them in person. And, don't forget to stay safe.
Best Regards,
Anders, CEO and Founder, Brattoo Propaganda Software