Improvements to Duplicate Annihilator.
AI in Photos Finder.
Duplicate Annihilator for Photos v9
AI Classroom.
GPTEverything.
AI coming to Duplicate Annihilator and Photos Finder.
Introducing Photos Clicker.
Improvements to Photos Finder.
Photos and People
Introducing Photos Finder.
macOS 13 Ventura feature "Copy Subject" explained.
Photos 8 – how to set up a shared library
Duplicate Annihilator for Photos v8 released
How to search, filter, suggest and "facet" your search in Photos.
How to work with People/faces?
Metadata, what is it and how do I use and edit it?
Introducing Duplicate Annihilator 7.5.0 including fix for iCloud and missing files.
Introducing Duplicate Annihilator v7 including copy metadata from duplicates to originals.
Smart albums for missing people no longer working
Photos 7 and Live Text
Preserve folder and album structure as keywords
Working with Duplicate Annihilator for Photos – part 3
Working with Duplicate Annihilator for Photos – part 2
macOS 10.5 Catalina, Photos 5 and Duplicate Annihilator v4
Working with Duplicate Annihilator for Photos – part 1
Duplicate Annihilator – HEIC format support
What is HEIC?
Hi,
My name is Anders and I'm the CEO of Brattoo Propaganda Software. In my last newsletter I wrote about how to use the People section in Photos. Using People is great way to make your photos more manageable and useful and is good step in making your library more accesible. We all have increasingly large libraries and the bigger they get the harder it gets to find the photos we want. When searching for photos we often have vague idea of what we are looking for and there are features in photos that can help you find it. So last night I had 1 on 1 Training Session with Kevin in California (he's an Emmy award winner isn't that cool?) who wanted to be able to quickly locate photos based on certain things in the photo. So I'll go through this in this newsletter, how to search, filter, suggest and "facet" your search in Photos.
Take care and stay safe.
Duplicate Annihilator for Photos – a Major release
In a recent newsletter I wrote about the new ability to copy metadata from duplicates to the originals so that nothing gets lost while deleting duplicates. Duplicate Annihilator can now also preserve the Albums. Albums are something that many of us put a lot of effort into when sorting our photos. However, when deleting duplicates you might run into problems if the duplicate has been used in albums. With the new Duplicate Annihilator for Photos v8 that is no longer a problem! The new Duplicate Annihilator keeps track of which albums your photos are being used in, and if a duplicate is detected and the duplicate is being used in an Album then the matching original will be assigned to that album.  And now it is safe to delete the duplicate.
Duplicate Annihilator for Photos v8 also remembers the last opened library, this has been a long requested feature! This and many more small fixes and features are available for download today. Get it from https://brattoo.com/#photos
Search, suggest and "facets"
I have written about the search field before but let's dive into this a bit deeper. If you have read my previous newsletter about search, you probably know that you can search for things in your photos such as dog, car, grass, sunset etc. You can also search for time periods such as April or 2022 and you can search for people.  It might seem straightforward, but there are some situations where you want to make sure that it really searches for something particular in a certain data field. An example would be that you want to find all the photos taken of a person named June, but you only want the photos shot in May! To make it more complicated, another person in your Photos Library is named May.
So how would we solve that? This is where we use the Suggest feature in the Photos search field to focus our search. Sounds complicated but it isn't once you get a grip If I search for the string "June may" in the search field in Photo,  I will get all photos that match those words in some fashion. And in this scenario it will not be as helpful as we want it to be.
Instead, let's just enter one word and wait for the suggestion box to appear: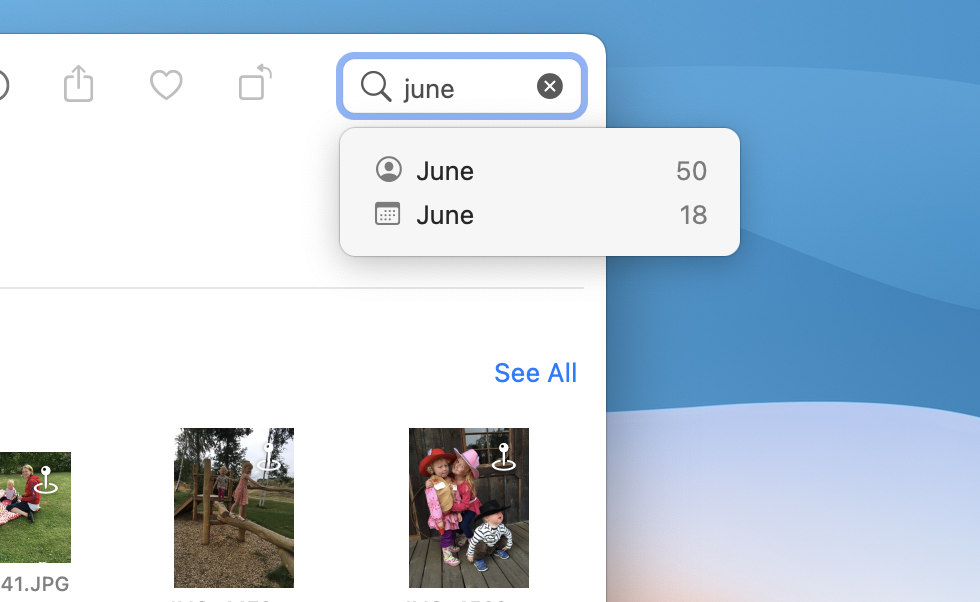 As you can see, in the suggest box below the search field the word June is listed twice, one with a calendar icon before it, and one with a people icon. By selecting one of those options we can narrow our search. In this case we wanted the photos of the person June so we select that one by clicking on it.
When we click on it, the word June is highlighted by adding grey a background to it, and we get new suggestions in the suggest box to narrow the result even further. These suggestions are what I call "facets".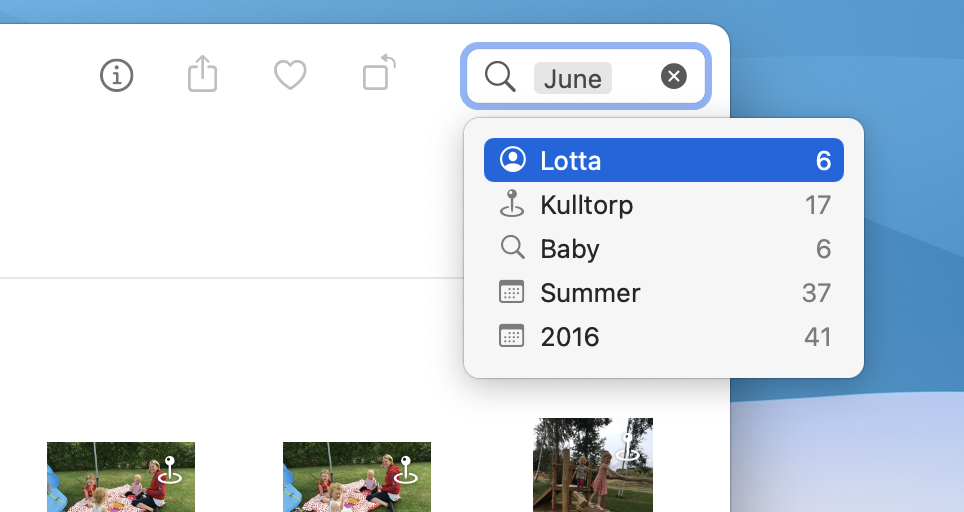 If we are not happy with those "facets", we can start to type in the search field. As you type new suggestions will appear and in this scenario: I chose the date May: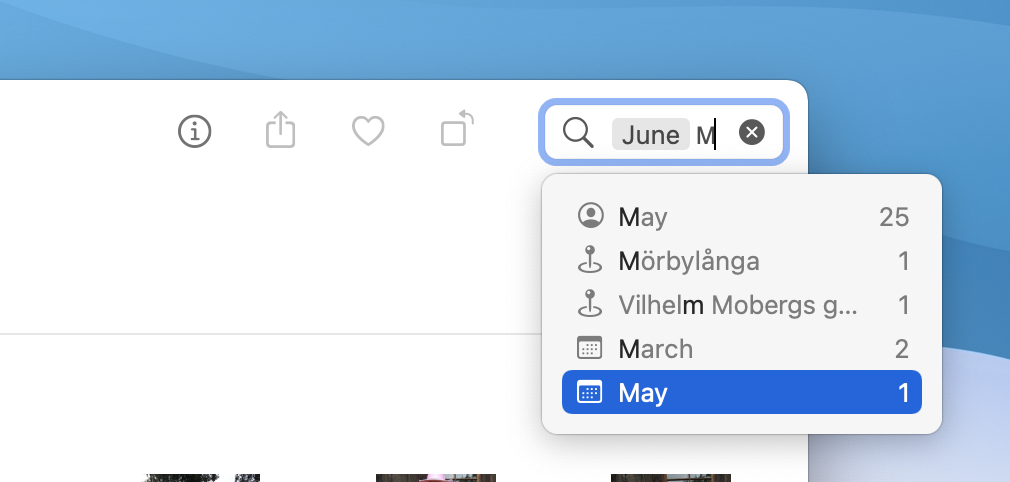 And there we have it all photos of June shot in May:
Which as you can see is a completely different result than if we search for the person May shot in June

As you can see, the "facets" in the search suggestion box can be a very powerful thing when it comes to locating photos.
Since I have mentioned calendar searches, it might be interesting to know that besides dates, months and years you can search for other calendar related words. You can search for things such as as spring, summer, autumn or winter and even for holiday related dates such as Christmas Day:


When using those "facet" searches you also get an indication of how many photos that will be found if the "facet" is added to the search. The number is based on the whole search field, so if we search for just the person June in my library we see that it will result in 51 photos.

But if I first add the facet Summer, and then start typing June, I see that the person June results in 37 photos:

It is also worth mentioning that you can search for specific media types such as Video, selfies, Live Photos, screenshots etc:

Filter your photos
Once you have started to use "facets" when searching, it will help you lots when trying to find specific photos. Now, when you have a search result or are just browsing your library, you might have noticed that there is a popup button in the top right corner that says "Showing: all items". Click on that, and you will find that you can filter the photos you are currently browsing. This will help you find only edited photos, favorites, videos etc.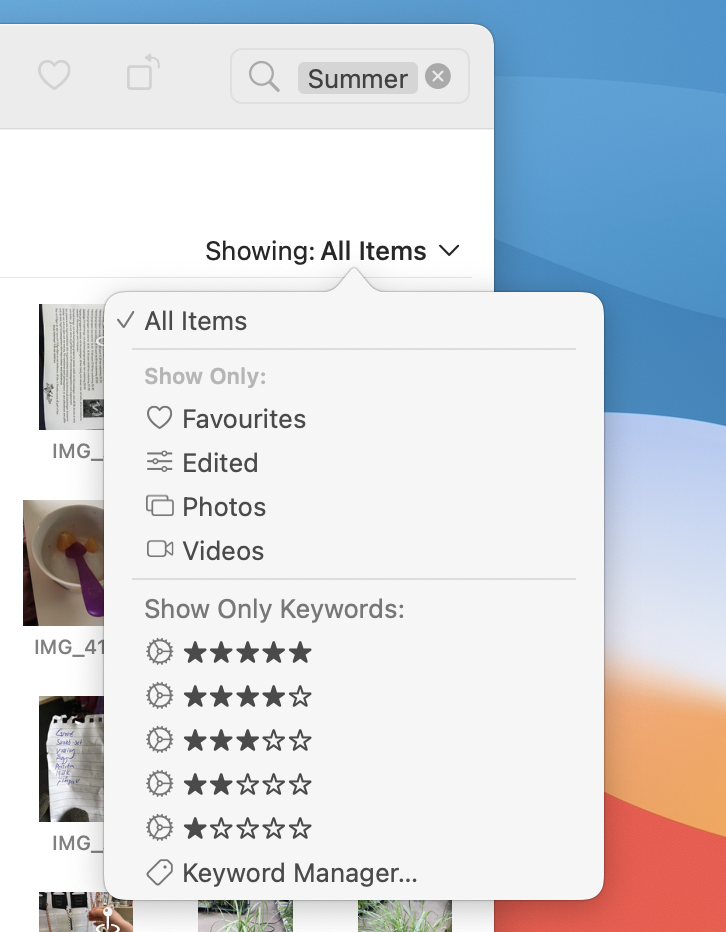 The same filter function can also be found in the menu View→Show: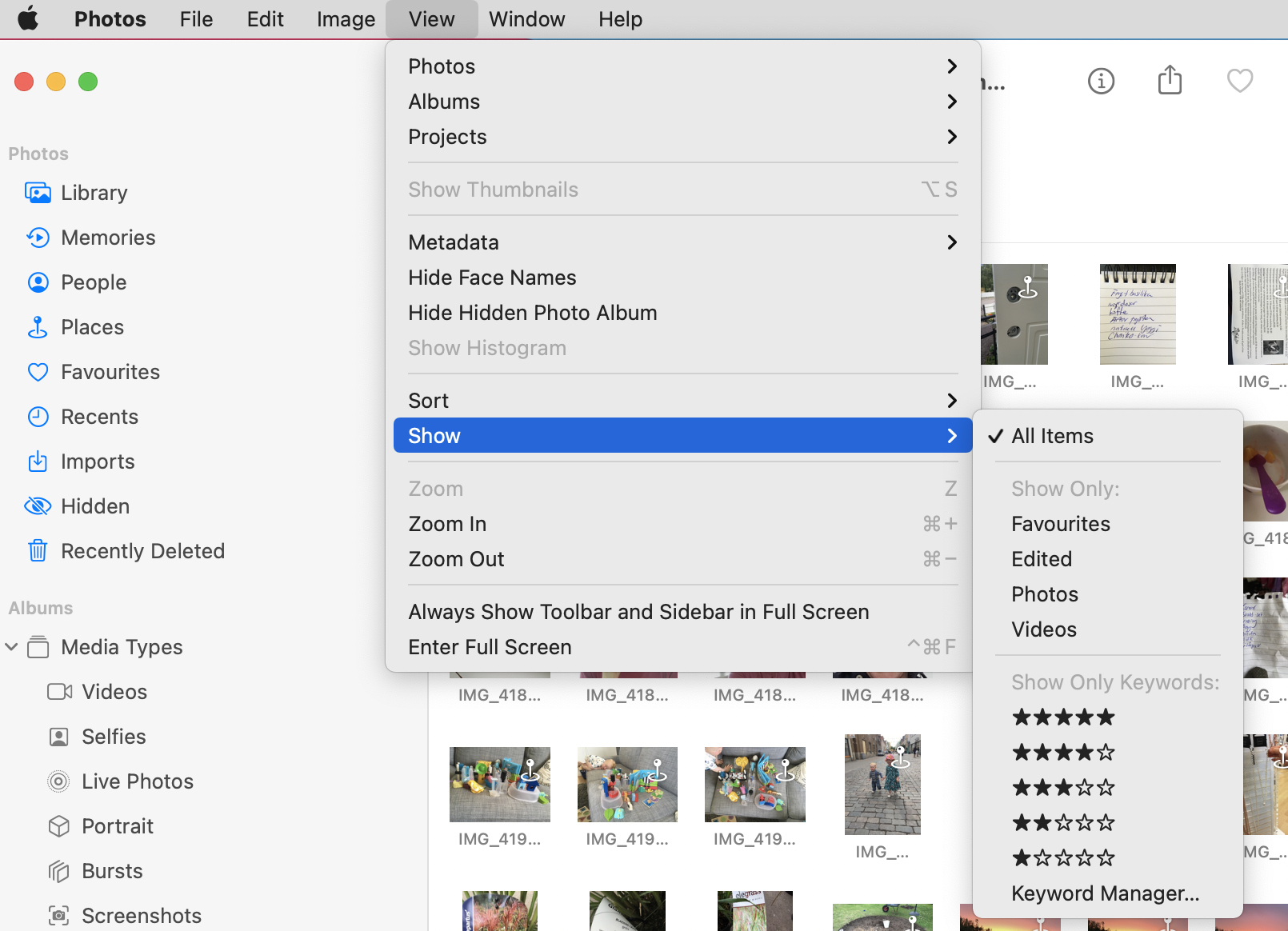 Bonus tip – Star ratings
p>Some of you might react to the filter options above and wonder how I got the one through five star rating options. Didn't those disappear with
iPhoto
and
Aperture
? Weren't they replaced with the favorite (heart) option in
Photos
? Yes they were. So I recreated the Stars as keywords in
Photos
using the Keyword Manager,
Window→Keyword Manager
or
Command+K
.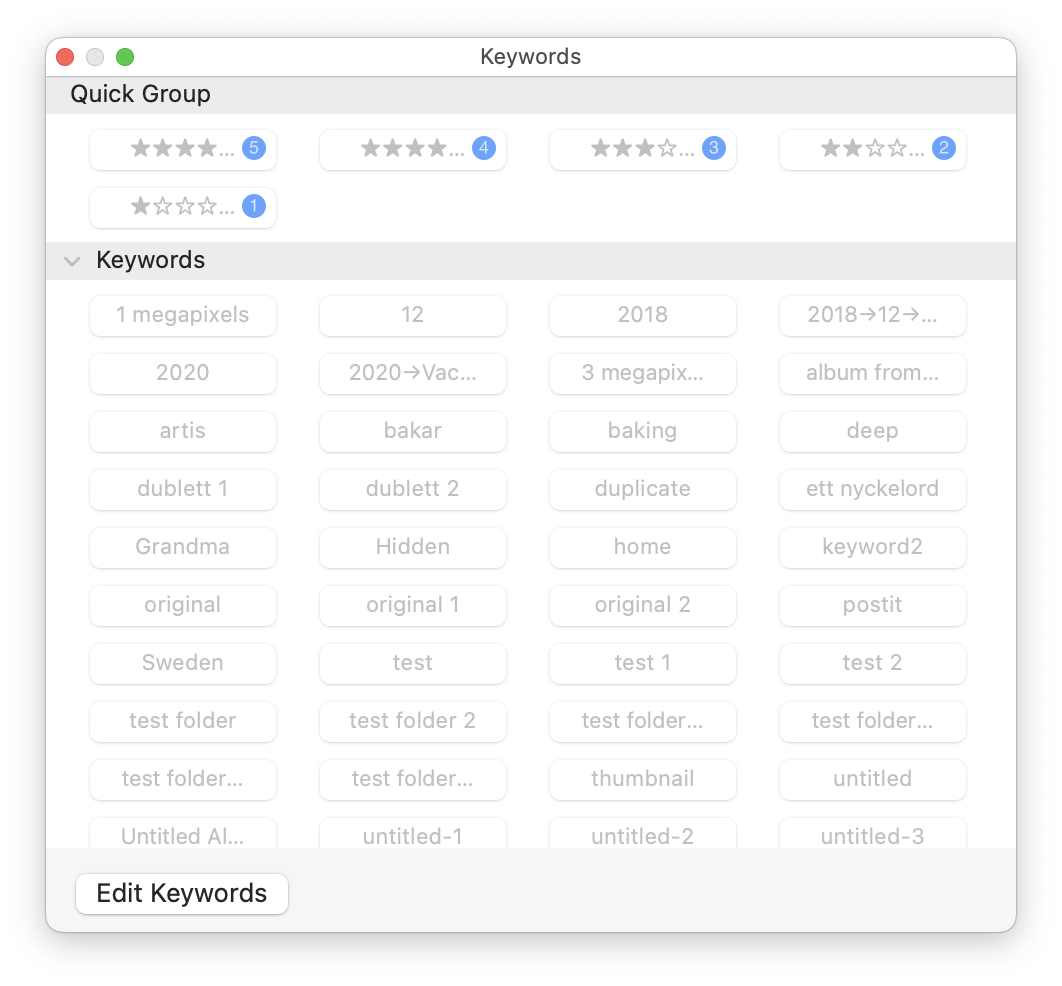 All keywords in the Quick group will appear in the filter menu, and all keywords in the quick group will also have a shortcut key. Either you can drag keyword from the Keywords group to the Quick group and it will be assigned an available key, or your can add a short cut key of your choice to a keyword if you click on the Edit Keywords button. You can read more about how the Keyword Manager works in an earlier newsletter.
So how did I get those fancy stars in my rating keywords? I used a unicode character which are hard to access from the keyboard. I include them here so that you can copy and paste them into your keywords if you want them:
★☆☆☆☆
★★☆☆☆
★★★☆☆
★★★★☆
★★★★★
1 on 1 training sessions
It is indeed great fun to meet you guys in my 1 on 1 training sessions. If you haven't tried, it but feel that it might be something for you, please feel free to email me. The training sessions can be about anything and will be customized based on your requests. I have over 25 years of experience in the Mac platform, I have been an Apple Solution Expert and have held training in various software over the years. Training sessions are on request by contacting me at training@brattoo.com. Each session is 1 hour and costs 79 USD. If you want to learn more about something, email me at training@brattoo.com and we'll work out a session just for you.
The free apps section
As I have mentioned in previous letters we have received requests on how to automate some tasks in Apple Photos or tasks related to photos. Those tasks might be tedious to work out manually but are easy for us to solve. The apps include a tool to set the Photos Titles based on the filename (with or without file extension), a tool to copy and apply GPS coordinates between photos, a tool to copy XMP sidecars to image files and finally a utility to set the correct file dates on image files based on the photo date stored in the metadata within the image files. You'll find all our free apps at https://free.brattoo.com.
This newsletter and previous letters
Several of our readers have requested that we resend previous emails so that they could catch up on earlier tips and information. All previous emails are available online in our Newsletter section at https://newsletter.brattoo.com
License upgrade - final call?
It was supposed to be the final call for discounted upgrades and we did discontinue it for a short period but received so many requests so we decided to open it up again. After all, we do try to be nice guys.
For only $4.95 you can upgrade any old Duplicate Annihilator license to Duplicate Annihilator for Photos and for just three dollars($3.00) more you can upgrade any old Duplicate Annihilator license to the Duplicate Annihilator Toolbox including a family pack! This means that you get five licenses for you and your family for all versions of Duplicate Annihilator including iPhoto, Aperture, iOS and Photos for only $7.95.
Get the upgrade from: https://upgrade.brattoo.com
Support the creation of these newsletters by becoming a Patreon!
If you enjoy these newsletters and want to support the creation of them, then please consider becoming a monthly contributor by signing up to become a Patreon at https://www.patreon.com/brattoo. Patreons gets access to videos of hints and tips from my newsletters.
Thank you for your time, I hope that you found this email informative. If you have any feedback, suggestions, questions or ideas then please reply to this email. I read all emails and reply to them in person. And, don't forget to stay safe.
Best Regards,
Anders, CEO and Founder, Brattoo Propaganda Software